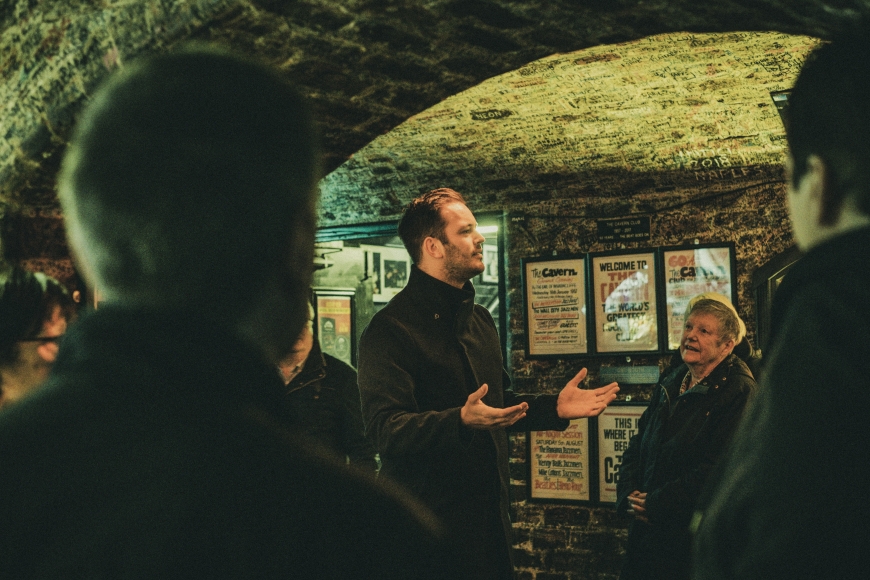 ***Due to coronavirus, this tour is not currently running but we hope to see its return 

Autumn

 2021 . Please check our Know Before You Go

page for regular updates about how we are operating at this time*** 
How well do you know the Cavern Club?
Since 2019 we have been giving visitors the chance to learn even more about the most famous club in the world on a unique behind-the-scenes tour which fully explains The Cavern Club's history, exploring the myths.
This free, 45-minute tour – led by our experienced guide Dale Roberts – runs every Monday, Tuesday, Thursday and Friday from 10.30am.
Dale will take you on a Magical Mystery Mathew Street Tour that not only offers a glimpse 'behind the curtain' at the Cavern – complete with anecdotes and stories – but also gives you the chance to get photos and an experience outside of the norm.
The tour is announced from the front stage at 10.25am so all you need to do is come into the club, your guide will then take visitors up to street level where they will learn more about Mathew Street's history before entering the Club through it's original entrance.
Our tour finishes on our Cavern Live Lounge stage, where you can stay and enjoy the Live Music following the tour.
Tickets Times & Packages
Tickets are FREE but are limited to 6 per person. If you are a group or a tour operator please contact us separately and we can see how we can arrange a tour for you.
Advance booking is recommended as the tour is capped at 25 people per tour. The Cavern Club opens daily at 11am.
While you may come to the club and see if there is space to join, the tour guide reserves the right to deny admission on to the tour for any reason for people with or without a ticket.
Currently, only one Behind The Scenes Tour runs per day, 4 days a week, regardless of the time of year. We reserve the right to cancel the tour at any time. We will do all we can to contact you via the email address provided to alert you of any tour changes in advance.
There is no guarantee that the tour will be the exact same every day, this may mean a change of route, timings and tour guide at short notice.
Check times and ticket availability for more information. Please note there will be no tours on 25th, 26th December, 1st January and during International Beatleweek.
Language currently the tour is only available in English. Please be aware that most tours will be given by a local tour guide who speaks with a Liverpudlian accent.
Car parking – Liverpool ONE, Liverpool L1 8LT is just 5 minutes walk from The Cavern Club
Children – All ages are welcome on the tour but please be aware that this is a 45-minute tour which is information-based.
Toilets – The tour is only 45 minutes long so the need for toilet stops isn't usually required. The club has multiple toilets and if you need to use them during the 45 minutes, just alert your tour guide as to not be locked out of the tour.
Accessibility – The Cavern Club Behind The Scenes Tour welcomes all people onto the tour and for the most part it is accessible. The tour does include some steps (the original entrance location and to get behind the scenes) however, we will happily adapt the tour for any access needs to may have. We recommend sending an email or a message to our Facebook page ahead of your trip to alert us so we can get a member of staff to assist you.
All tours operated by Cavern City Tours are with an official Liverpool Beatles guide.