We welcome group visits to all Cavern venues and on the Magical Mystery Tour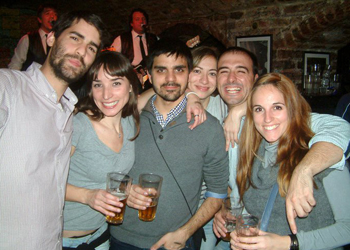 Cavern Club and Cavern Pub
Whether you have something to celebrate or just want an excuse to party with your friends, our thriving live music venues are the perfect place for your group. Both the Cavern Club and Cavern Pub are open 7 days a week and cater for all types of groups of all ages. Groups of 10 or more should be booked in advance, please email [email protected] or tel: 0151 703 9100 for more details.
For general admission to the Cavern Club after 8pm Thursday, Friday and Saturday you can check ticket* prices and buy online here at a discounted rate.
For shows in the Cavern Live Lounge you can purchase tickets* online here
Admission to the Cavern Pub is free.
*Please note that large parties will be admitted to the venue at the discretion of the door staff. At busy times we cannot guarantee entry.
School group visits to the Cavern Club
The Cavern welcomes school groups of any age to visit our famous club between 9:30am and 12pm, Monday to Thursday. If you are interested in visiting with a school group please contact us to book ahead – [email protected]
Magical Mystery Tour
Group tickets on the Magical Mystery Tour can be booked on line. Group discounts for 10+ people apply*. To book seats for your group on the Magical Mystery Tour click here.
Private tours can be arranged for groups of any number to your specific requirements.  For further information and to make a booking click here
*Please note that online ticket sales are limited to a maximum of 25 per transaction.