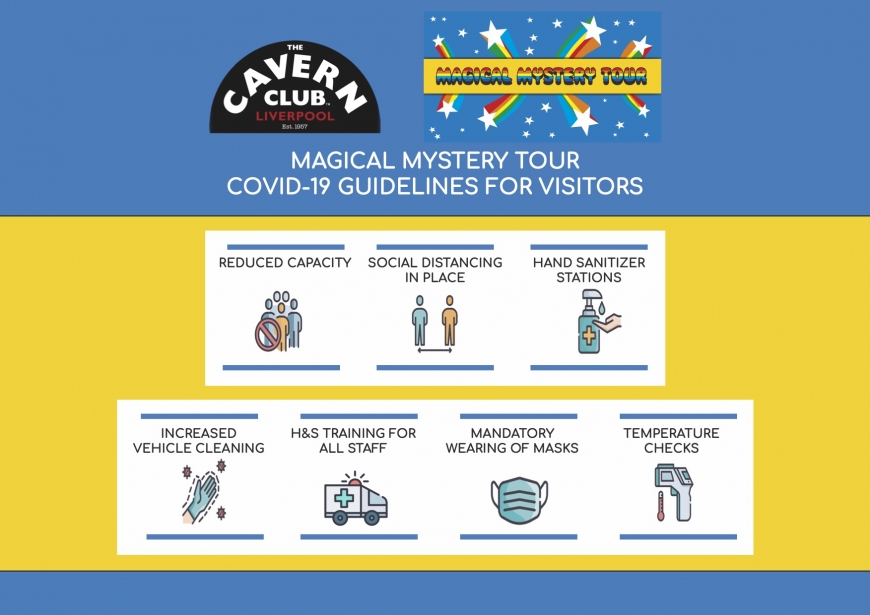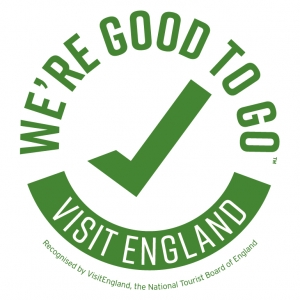 Updated 6th October
***Due to current U.K Government covid19 restrictions and local lockdown, all Cavern venues are closed until further notice.
Our Beatles Magical Mystery Tour remain open at this time.  Things look a little different in the world at the moment and we are implementing health and safety measures in accordance with UK Government and Health official guidelines. As such, we have been accredited with Visit England's industry standard kite mark 'We're Good To Go', providing extra reassurance of our commitment to ensuring your safety and the safety of our staff. Click here for more information about 'We're Good to Go'.
We thank you for your help and patience with observing social distancing to help us open safely. Please take a minute to read about our changes and what you can expect from your visit. If you have any questions regarding your visit please email [email protected]
MAGICAL MYSTERY TOUR
How often are Magical Mystery Tours operating?
Initially, from Friday 7th August, tours will run daily at 2pm. This schedule is subject to change and information will be updated here and across our website when it is available.
Do I need to book a ticket?
As we are operating a significantly reduced tour schedule at reduced capacity, booking in advance is highly recommended but not essential. Tickets can be booked on-line here. A maximum of 6 tickets per group is permitted. We also encourage anyone paying on the day to use card or contactless methods wherever possible.
How will social distancing be managed?
Keeping our staff and customers safe is our main priority, therefore we have followed UK Government and health official guidelines and undertaken a risk assessment to help us plan our changes to help reduce the risk of spreading coronavirus.
Measures include:
Social distance signage to remind customers to socially distance.
Customers will not need to enter our ticket office to check in for the tour, instead will be welcomed outside the building.
Our coach capacity has been reduced to allow for social distancing.
Our guides will politely manage passenger boarding, disembarking and at sightseeing stops to maintain social distancing .
Maximum group booking limited to 6 people.
Boarding and disembarking is likely to take longer at this time and we thank you for your patience and help to keep us all safe.
What sanitisation measures will be in place?
The Royal Albert Dock Liverpool provides hand sanitizer stations throughout it's estate for visitor use. We will also be providing hand sanitizer at our ticket office and on our coaches.
We have increased our coach and ticket office cleaning regime and coach interiors will be sanitized using a professional mister before and after every tour.
Cleaning will also take place on coaches during the tour stops.
Will I need to wear a mask on the tour?
To increase safety, we politely ask that all passengers and staff wear a face covering for the duration of the tour.
Will there be a toilet stop during the tour?
Unfortunately, at this time we are unable to make our usual toilet break stop.
Toilet facilities are open and available at Royal Albert Dock where our tour begins.
Why do I need to provide personal details when I visit?
To assist and support the NHS Test and Trace process and in line with Government guidelines, customer contact information will be collected upon arrival. This data will only be made available to NHS authorities to help contain the spread of coronavirus should an outbreak be identified on our premises.  It will not be used for any marketing by The Cavern or shared with any other third parties. For more information about these measures please contact [email protected]
Will I be allowed to visit if I am displaying symptoms of COVID-19?
We politely request any visitors planning to take our tour or visit our venues who are displaying symptoms of COVID-19, however mild, stay at home to reduce the risk of infection spreading and come back when you're feeling better. To help us with this, customer temperature checks will be taken before boarding the coach.
Will the tour stops run as normal?
Sadly, in order to enable us to run the tour safely at this time, we have had to make some changes to our tour stops. We are unable to visit George Harrison's childhood home (Arnold Grove).
The Cavern Club will be opening from from Friday to Sunday from 18th September. If you are a Magical Mystery Tour customer you will be able to enter the Club during opening times free of charge. ** As this situation changes, we will update information here.
**When Cavern capacity is at it's maximum, the above customers can join a priority queue**
Otherwise, the tour route and stops will operate as normal with photograph opportunities along the way.
Will music still be played along the tour?
Yes, absolutely! Beatles music highlights the importance and relevance of the places you will visit and will remain a part of the tour (at a safe sound level). Sadly you won't hear our tour guides and drivers singing…but maybe that's for the best!!