Information regarding operational changes with effect from 19th July
As you may be aware, Monday 19th July brings about a certain amount of what were legal restrictions, shifting to 'advisory' guidance. In-light of this, we at The Cavern have made some decisions about how we feel is best to continue to operate with the safety of customers and staff in mind post 19th July.
While most current legal restrictions are lifted, the Government is placing emphasis on a public 'social responsibility' which we as employers, are taking serious consideration of. For the continued safety of our staff and customers, we have made the decision to gradually unlock our operational procedures currently enforced by the pandemic.
You may be wondering what you can expect from our venues and tours at this time?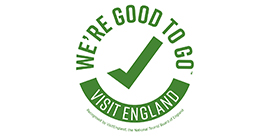 All of our businesses will be operating under Government Covid-safety guidelines. As such, we have been accredited with Visit England's industry standard kite mark 'We're Good To Go', providing extra reassurance of our commitment to ensuring your safety and the safety of our staff. Click here for more information about 'We're Good to Go'.
Further operational specific details will be reviewed regularly and updated here as and when they change. If you have any questions regarding your visit please email [email protected]
Magical Mystery Tour – A Beatles Coach Sightseeing Tour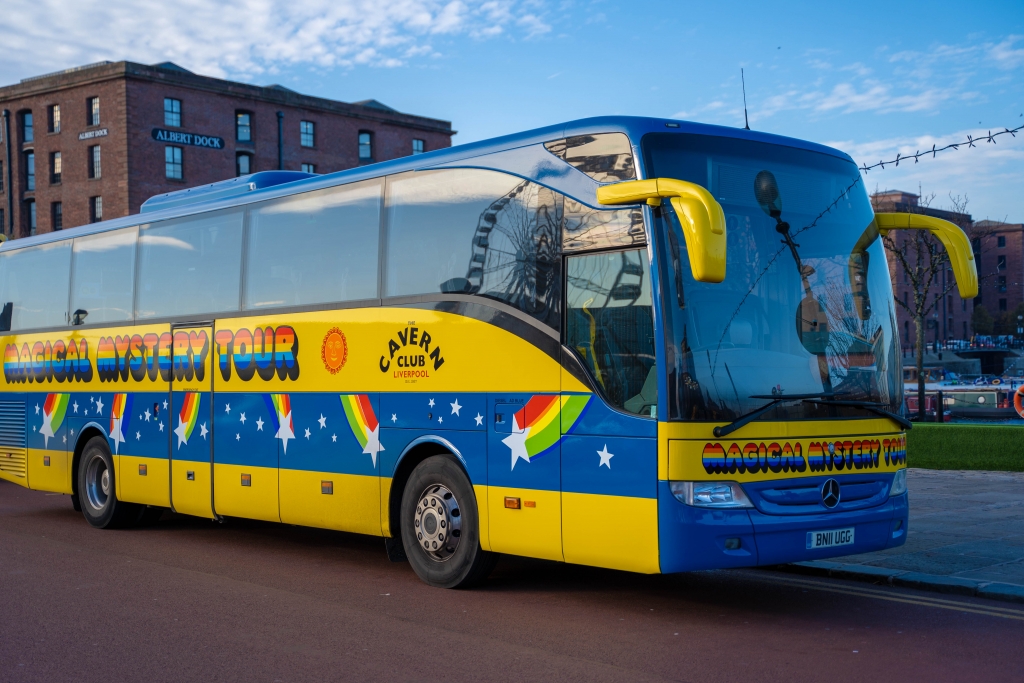 What days and times will tours be running?
Monday to Sunday at 10am, 11am, 1pm and 2pm
Saturday – Additional tours may operate at 4pm
Do I need to book a ticket?
From 19th July we will return to operating at full coach capacity of 53. Booking in advance is highly recommended to avoid disappointment, but not essential. Tickets can be booked on-line here. We also encourage anyone paying on the day to use card or contactless methods wherever possible.
Will I need to keep my distance from other passengers?
Whilst we are increasing bookings to full capacity from 19th July, we'd still like to advise people to give each other space when boarding and disembarking the coach and while at the stops. We will continue to implement the following measures:
The number of customers entering our ticket office to check in for the tour will be kept to a minimum at any one time. We politely ask you to wait outside if there are already 3 people inside the office.
Boarding and disembarking is likely to take longer at this time and we thank you for your patience and help to keep us all safe.
What sanitisation measures will be in place?
The Royal Albert Dock Liverpool provides hand sanitizer stations throughout its estate for visitor use and we kindly ask that you do use them wherever possible. We will also be providing hand sanitizer at our ticket office and on our coaches.
We have increased our coach and ticket office cleaning regime and coach interiors will be sanitized before and after every tour.
Cleaning will also take place on coaches during the tour stops.
Increased sanitisation will remain in place until the foreseeable future.
How will the coach be ventilated?
Our coaches are not open-top. The air conditioning system pulls in fresh air to circulate rather than recirculated air.
What other special measures are in place?
It is our company policy that all staff are tested for covid twice a week and the results submitted to management.
Staff testing will remain a company policy in place post 19th July until further notice.
Will I need to wear a mask on the tour?
Yes. We have made our company policy decision for customers traveling on the Magical Mystery Tour from 19th July 2021 onwards until further notice. ALL passengers whilst on board the Magical Mystery Tour must wear a mask. This is to protect other customers and our staff alike. Any customer with an exemption certificate is asked to produce it prior to boarding where upon the guide will issue an exemption lanyard to be worn during the tour.
If you are uncomfortable with wearing a face covering while on board our coach all we can do is offer our sincere apologies and politely ask that you come back to book when our company policy doesn't require you to wear one.
Does the Tour include free entrance into The Cavern Club at this time?
Yes, your Magical Mystery Tour ticket or boarding pass will permit you free entrance into the Cavern Club on the day of your tour. However, as we are operating at 55% venue capacity post 19th July, queuing time may be longer than usual, particularly at peak times and weekends.
**Entrance fee cannot be waivered for MMT customers during Beatleweek festival dates from 25th to 31st August 2021.
Are there any changes to the Tour stops during this time?
In order to maintain social distancing and to protect local residents of Arnold Grove (George Harrison's birthplace and childhood home), we are unable to make our stop at this time.
This restriction will remain in place post 19th July until further notice.
Will music still be played along the tour?
Yes, absolutely! Beatles music highlights the importance and relevance of the places you will visit and will remain a part of the tour. From 19th July you'll be allowed to sing-along too!
Cavern Venues Information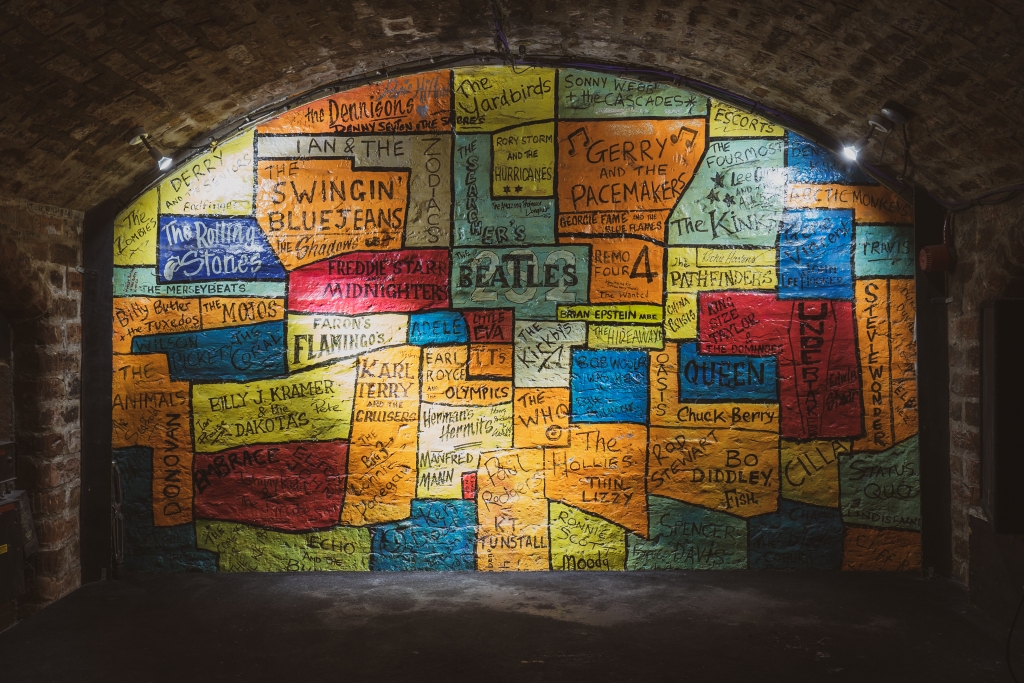 What are your opening hours?
The Cavern Club:
Monday, Tuesday, Wednesday and Sunday  from 11am to 12am
Thursday and Friday from 11am to 1am
Saturday from 11am to 2am
The Cavern Pub:
Monday, Tuesday, Wednesday, Thursday and Sunday from 12pm to 12am
Friday and Saturday from 12pm to 2am
Cavern Restaurant:
Monday to Wednesday from  12pm to 8pm
Thursday to Sunday from 12pm to 10pm
Trading hours are subject to change and will be updated here.
Do I need to book to visit Cavern venues?
You do not currently need to book general admission tickets to visit to The Cavern Club, The Cavern Pub or Cavern Restaurant however, if you would prefer to make a reservation at the Cavern Restaurant you can do so on-line HERE or by telephone +44(0)151 236 1962 or email [email protected]
The Cavern Club Beatles shows have returned to The Cavern on a Friday and Saturday nights and advance booking highly recommended. Tickets for these shows are now available to book online
What are your venue capacities?
Although our capacities will be increased across our venues from 19th July, our aim is to build this up gradually before returning to full capacity across The Cavern Club and Cavern Pub.
The Cavern Club
Total capacity – 300 (which represents 55% of maximum capacity)
Front Room – max capacity 115 (70 seating and 45 standing)
Live Lounge – max capacity 185 (140 seating and 45 standing)
Seating and standing allocations will be managed in real time by Club managers and Door staff. It essential that door staff and floor staff get ALL seats occupied in the front and back and to have oversight of no more than 45 standing in each room.
The Cavern Pub
Seating and standing capacity will be increased and managed on site in real-time by managers and door staff to ensure that the Pub at no time becomes overcrowded.
How much does it cost to visit?
The Cavern Club general admission price is £5.00. Live music sessions differ on Friday and Saturday. Please check the opening times and price page for more information
Entrance into The Cavern Pub and Festival Restaurant is free.
Do I need to wear a face mask?
In accordance with updated UK Government guidelines, the wearing of face masks is no longer mandatory in pubs or restaurants, however our staff will continue to wear face coverings and we advise customers to do so when moving around the venue or waiting at the bar, but this is not mandatory.
Will there be entertainment in The Cavern Pub?
Yes, entertainment will be on the Cavern Pub stage every day starting late afternoon.
Will I be able to try on Cavern merchandise garments on site?
Cavern merchandise will be available to purchase at our venues during your visit via table service (or online if you forget while you're with us). Unfortunately, at this time, garments cannot be tried on before purchasing but our staff will be on hand to help you when choosing should you need it. All merchandise can be viewed in display cabinets without the need to handle them before purchase.
Can I sit outside the venues?
Yes, outdoor seating on Mathew Street outside The Cavern Pub and Festival Restaurant is available to customers.
Cavern Club Beatles Shows in the Live Lounge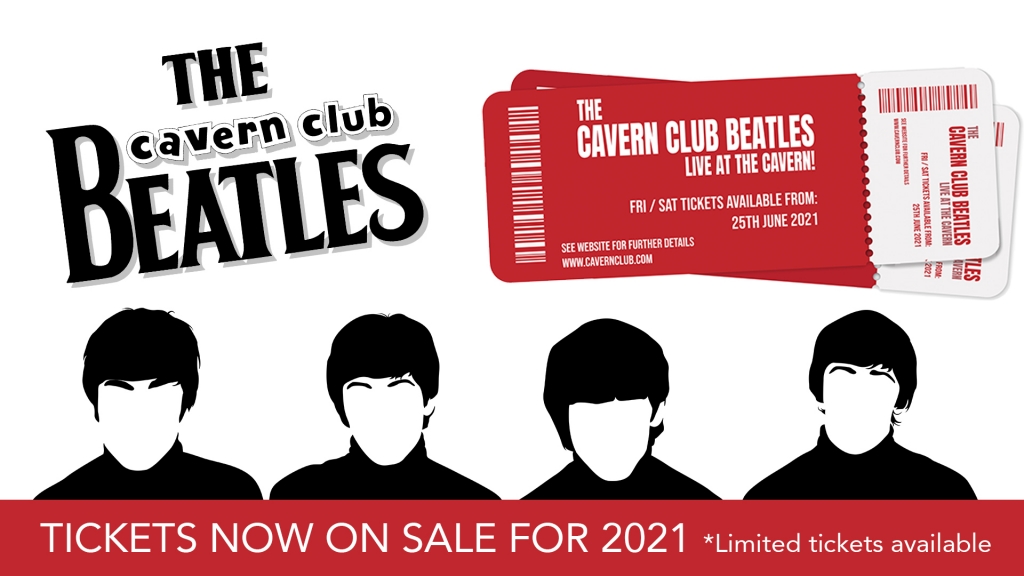 Doors open at 7:15pm from The Cavern Club's main entrance on Mathew Street.
First act on stage at 8pm
Cavern Club Beatles show starts at 9pm and finishes at 12am
Final act closes the show at 1am
All customers must have a valid pre-booked ticket.
All CCB shows include a mixture of unreserved seats and a small number of standing.
Cavern Club Beatles show tickets don't, at this time, include general admission into the Cavern front stage. Tickets are valid only for the Live Lounge show on the date as displayed on your e-ticket.