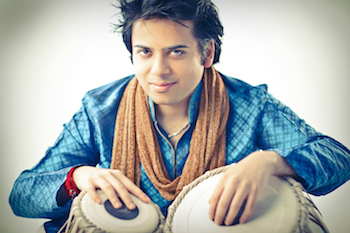 Rishii is a British born musician who brings a fresh, energetic and exciting approach to playing the tabla. He is a 'rising star' in the World of Indian Classical music and has been labelled as an 'Overseas Youth Icon' by the Eastern Beats Music Society, Assam, India. It is Rishii's dedication to the art of tabla that has led him to learn from the World's greatest tabla maestro's Ustad Zakir Hussain and Pandit Anindo Chatterjee. Rishii has also received guidance from Suphala Patankar, disciple of the late tabla master Ustad Allarakha.
As well as being deeply rooted in the Indian classical tradition, Rishii has been involved in many stimulating collaborative world music projects working with tap dance, Birdsong, Western classical, Drum n bass, jazz, electronic, spoken word, reggae, electro rock, pop, dubstep genres and theatre productions. Rishii is also a member of 'Tarang', the UK's National Ensemble for Indian Music created by Milapfest Arts Organisation
Amongst Rishii's many achievements, he raised over £1000 for BBC Children in Need in 2009 by playing the tabla non-stop for 7 hours. In 2014 Rishii produced his first show 'Melodies on the Brink' with support from the Arts Council, England which commemorated the First World War to a sell-out audience at Embrace Arts, Leicester. The success of the show was down to Rishii's innate gift of bringing artists together and inspiring them to flourish.
Rishii also has a commitment and passion to developing the next generation of tabla players. He is already gaining a reputation as an individual with "empowering qualities" which is why the student body of his YO-Tabla! Academy are growing. Rishii is an ambassador for Indian music having lectured at the Cultural Integration Fellowship, San Francisco, California.
Rishii completed a leadership programme with Performing Arts Leicester (PAL) and being one of the project managers/mentors of a new creative networking group 'CEMENT', Rishii is definitely making a mark in the industry, not only as an exciting artist but also as an arts entrepreneur.