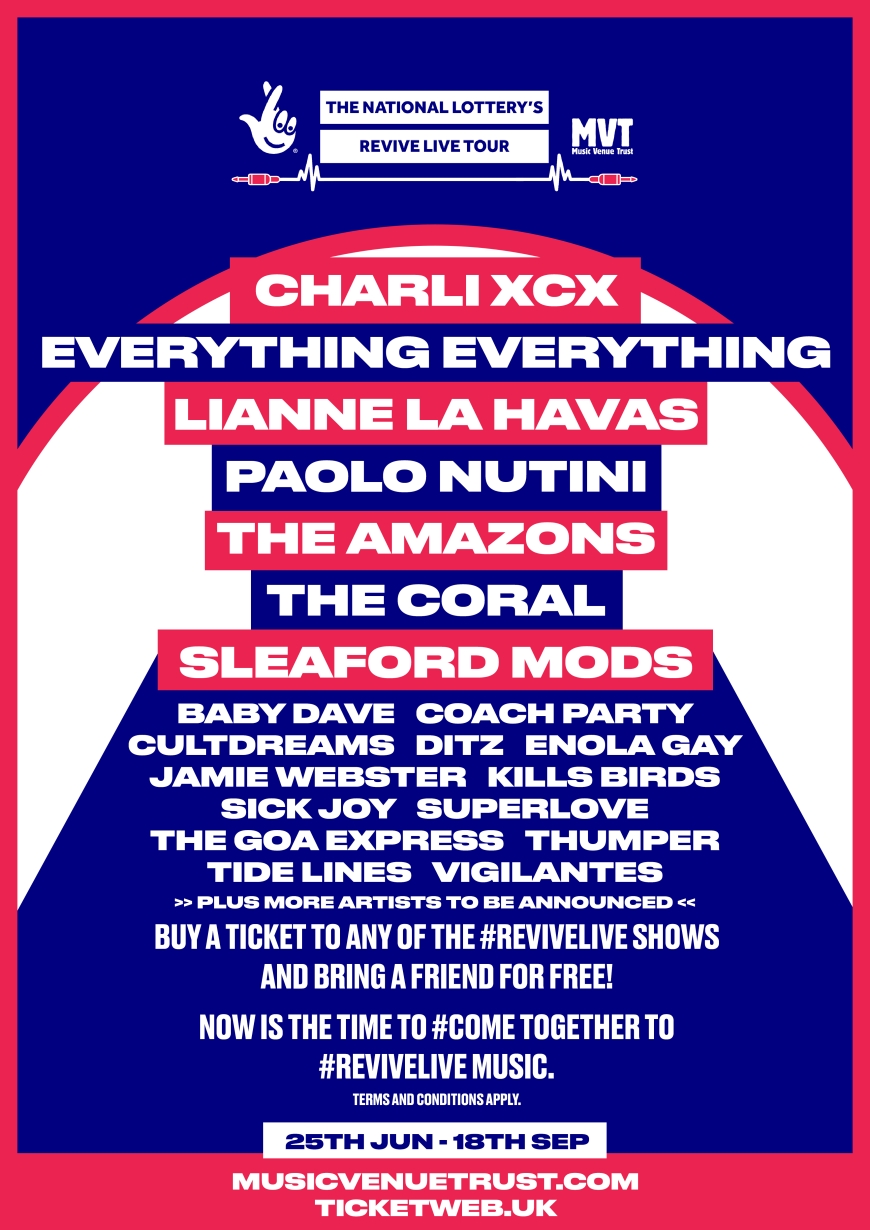 Get
Tickets
TBC
The Cavern Club Live Lounge
We've all missed live music and our friends over the last couple years: Now it's time to #ComeTogether and #ReviveLive
Music Venue Trust has teamed up with The National Lottery to help to #ReviveLive music in grassroots music venues across the UK this summer with a fantastic line up of tours, one off events and special performances. And it's all about bringing friends and communities back together.
The National Lottery is supporting artists and crews to get out playing grassroots music venues in front of audiences… back where they are meant to be! You can check out the full range of events below. Bookmark this page and remember to check back regularly as shows are announced right across Summer 2022.
But live music venues aren't just about the shows. Live music is about bringing people together, celebrating that moment, that band, that song, together.
MVT and The National Lottery want to invite you to create new moments of shared experience with your family, friends and communities, because we understand the important role music plays in bringing people together. So for every National Lottery Revive Live Tour event, we are inviting every ticket holder to bring a plus one FOR FREE!
All you need to do to qualify for this offer is to show proof that one of you is a National Lottery player, either by showing us a physical lottery ticket, or one within your National Lottery app.
***Please note that the Free Ticket must be "purchased" along with your General Admission Ticket. The price you pay per ticket will display.***
Who is the person you have missed going to gigs with the most? Who is the person you want to celebrate the return of live music with? Secure your ticket and let us know on Twitter and Instagram using the hashtags #ReviveLive and #ComeTogether

The Live Lounge is a standing venue with some unreserved seating. Seating is not guaranteed and may not be available for all shows. If you have a disability and need a seat please call us on 0151 236 1965 in advance to make arrangements!
Most events are 18 yrs and over please see our age policy for more information before booking. If you have any questions please get in touch with us.