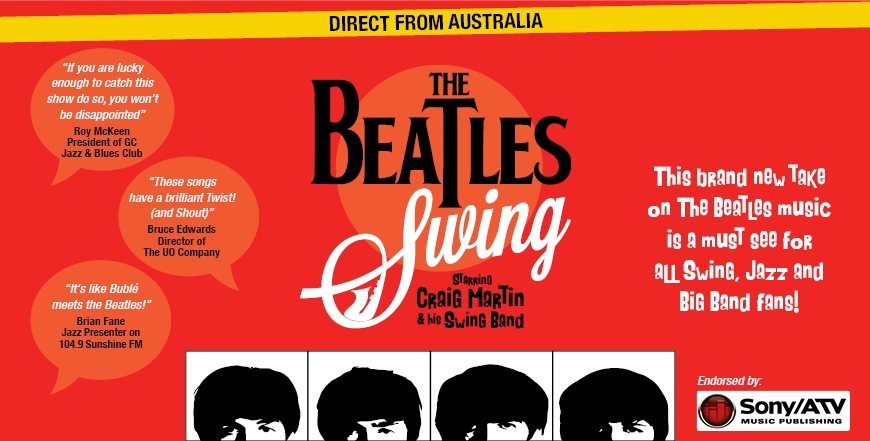 Get
Tickets
£15
The Cavern Club Live Lounge
The Beatles Swing: Starring Craig Martin and his Swing Band
Join Liverpool born Craig Martin and his Swing Band performing 25 Beatles classics from this unique and 100% live show. This brand new take on The Beatles music includes a Jazzy 'Can't Buy Me Love', an Afro-Cuban 'Ob La Di – Ob La Da', a Big Band 'Hey Jude' and a Swingin' 'Twist and Shout'….
Seating is 'Cabaret Style Tables' for this show
This Sony/ATV endorsed show is a must see for all Swing, Jazz & Big Band fans, let Craig Martin and his Swing Band take you on a swingin' musical journey through the Fab Four's greatest hits from 1962 to 1970.
With exclusive rights to rearrange and perform 25 Beatles' songs swing style, the audience will not see a similar show anywhere in the world.  It's a trip down memory lane that gives the great live music experience of the big band sound!
It features the songwriting talents of all four members of this supergroup, spanning the years 1962 to 1970. Craig and a team of Australian composers have rearranged the songs making old new again!
Every change that Craig has made to the songs has been sanctioned by the custodians of these precious works with each music chart having been submitted to Sony/ATV, Universal Music and even Paul McCartney's own music publishing company MPL for their stamp of approval, without which Craig's vision for the show would not have been realised.
Craig emigrated to Australia in 2009 but his 'Mersey Beat' background helped him secure the permissions to rearrange the songs. Having performed regularly at The Jacaranda, Rosie O'Grady's and The Cavern Club in the 1990s, Craig's own musical journey followed that of the Fab Four in their early years. Craig also had the privilege of touring the UK, Europe and South Africa with Liverpool legend Gerry Marsden as a guitarist and vocalist in Gerry's autobiographical show 'Ferry 'cross the Mersey'. "Like most budding young musicians growing up in Liverpool The Beatles were a big part of your musical education, so to get to spend many months touring with someone who shared their journey was very special, Gerry told me lots of stories about the early years, some of which I may even share with the audience at the show!" says Craig.
Get your tickets now and you'll be saying 'Yeah Yeah Yeah!'

The Live Lounge is a standing venue with some unreserved seating. Seating is not guaranteed and may not be available for all shows. If you have a disability and need a seat please get in touch with us in advance to make arrangements!
Most events are 18 yrs and over please see our age policy for more information before booking. If you have any questions please get in touch with us.