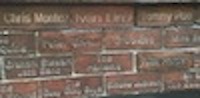 Three new legends inducted into the World Famous Cavern Club Wall of Fame
Three International Legends are the latest in a long list of world-renowned artists to be honoured in the Cavern Wall of Fame. Seven time Grammy award winning Brazilian singer/songwriter Ivan Lins and 1960s American rock 'n' roll stars Tommy Roe and Chris Montez were each presented with their bricks during International Beatleweek in August where the individuals performed to sell-out crowds attending the festival.
Ivan performed at the festival with Brazilian band and International Beatleweek regulars Club Big Beatles. His multi-Grammy award winning songs have been recorded by artists such as Barbara Streisand, Ella Fitzgerald, Burt Bacharach, George Benson, Quincy Jones and Sting to name but a few.
Cavern Club owner and festival organizer Bill Heckle said "It was a true honour to bring such a legend to perform in Liverpool at what is a truly International event in the City."
Chris Montez topped the U.S. Billboard charts with hits such as Let's Dance and The More I See You in the 1960s. International recording artist Tommy Roe enjoyed 1960s chart success with Dizzy (which has been covered over the decades by many artists) and Sheila. The pair famously headlined the 1963 UK tour, which was supported by four young lads from Liverpool, The Beatles.
Montez and Roe closed Liverpool's International Beatleweek festival performing two shows to sell-out audiences.
The three musical icons join the World Famous Cavern's Wall of Fame which stands outside the Cavern Club on Mathew Street and reads like a 'who's who' of musical geniuses who have played the venue. It includes The Rolling Stones, The Who, Chuck Berry, Queen, Adele and of course The Beatles.
"We're very proud to induct these guys onto our wall which is littered with the crème de la crème of musicians that the world has seen throughout the decades. It is a list that comes right up to date with the likes of Jessie J, Adele and Jake Bugg and continues to grow" says Bill Heckle.