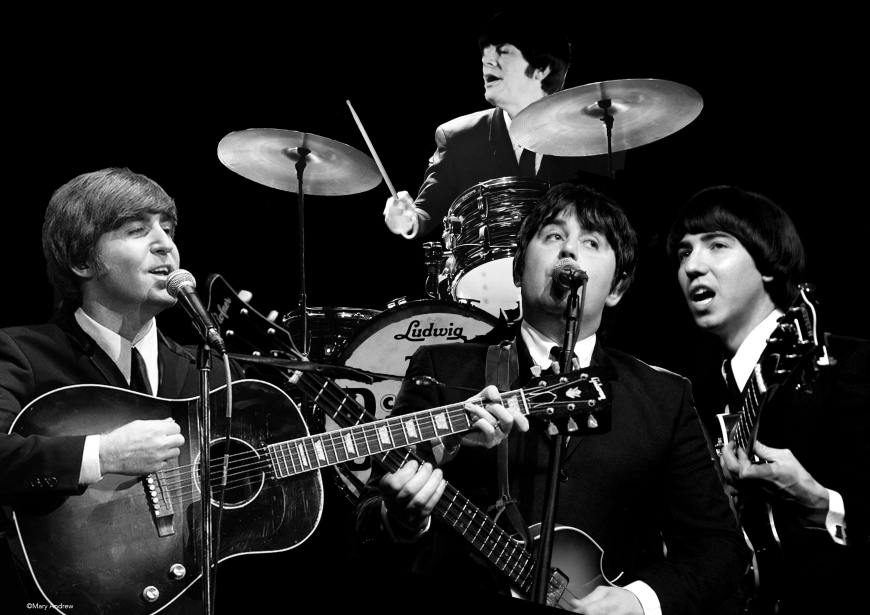 The Cavern Club Beatles are the Cavern's resident Beatles tribute band, who play in the Cavern Live Lounge every weekend!
Formed in Liverpool in 2011, these Northern lads, replicate perfectly both the look and sound of the fab four. Their attention to detail, musically and creatively is second to none. The band was cast after extensive auditions "with a little help from" legendary Beatles recording engineer, the late, great Geoff Emerick.
As the officially Cavern endorsed Beatle band, they play their "all – era" theatre style show every Saturday in the Cavern Live Lounge as well a more relaxed show on certain Fridays throughout the year. Please see listing for "Friday With The Cavern Club Beatles".
Between them they have already notched up an impressive biography – touring the world extensively as well as shows on London's West End, Broadway, and played The Royal Albert Hall. In February 2014 the band celebrated the 50th Anniversary of the Beatles' first steps on American soil and their first appearance on the Ed Sullivan show. Over a two – week period they played throughout New York and Florida in conjunction with The City Of Liverpool, Hard Rock Cafe, British Airways and Visit Britain. In 2015 the band were invited to celebrate the 50th Anniversary of the filming of the Beatles' second film, Help!, in Obertauen, Austria. They performed in Obertauen as well as sold out shows in Vienna. In June of 2016, the band headlined International Beatleweek, performed solo George and Paul shows, as well as a special show to Revolver.
To book tickets…
Click here for 'FRIDAY with the Beatles' tickets – JUST CLICK THE 'CHECK DATES BOX' for your desired day.
Click here to book tickets for 'SATURDAY with the Beatles' – JUST CLICK THE 'CHECK DATES BOX' for your desired day.
The bands also performs a more informal stage show on some Friday nights in the Cavern Live Lounge which celebrates not only all of the big numbers, but many of those cherished album tracks!  Bring your dancing shoes and singing voices!
Artist's Links