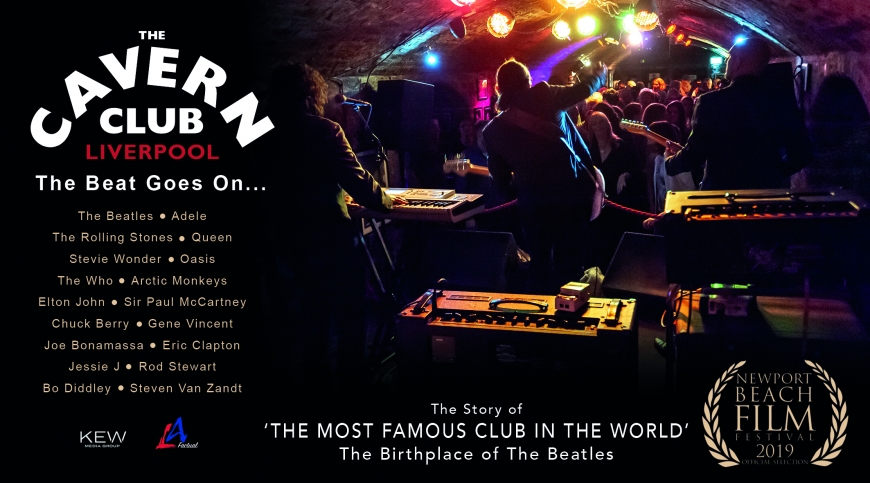 CAVERN DOCUMENTARY: The Cavern Club – The Beat Goes On…
Liverpool's world-famous Cavern Club has been described as the "Cradle of British Pop Music, the place where the Beatles musical identity was formed. The club has played a pivotal role in each and every period of popular music since it first opened its doors as a jazz venue in 1957. Undoubtedly, without the 292 gigs The Beatles played here between February 1961 and August 1963, the Cavern's story would be a very different one. But they did play those 292 gigs and the Cavern was firmly on the world's musical map.
This is the story of a Club whose fortunes have ebbed and flowed in tandem with that of the city of Liverpool itself, a Club that has embraced an ever – changing music scene, the highs and lows, the dramas, the battles, the heartache, but above all… the music.
The number of top-drawer artists to tread its fabled stage reads like a roll call of popular music.
Impressively, after seven eventful decades, it survives and continues to thrive as a relevant, contemporary live music venue as well as a major tourist destination, a place of pilgrimage for Beatle fans and music fans alike.
Discover for yourself the evocative spirit of this legendary venue through the people who were there and those who continue to "hold the baby" for future generations. Presented by Paul McGann and with contributions from the likes of Sir Paul McCartney,
The Cavern Club – The Beat Goes On is the story of a club that remains the beating heart of Liverpool's iconic music scene and quite rightly takes its position on the world's stage.
FILM CREDITS
 Directed by Christian Francis-Davies & Jon Keats
Written by Bill Heckle
Produced by Christian Francis-Davies
Executive Producers: Colin McKeown, Bill Heckle, Dave Jones, George Guinness & Julia Baird
Cinematographer: Daniele Lucca
Online Edit: Patrick Hall
Offline Edit: Rachel McElroy
Sound: Mark Schofield
Presented by Paul McGann
Original music: Maff Hall & Stevie Vedmore
Running time: 70 Minutes