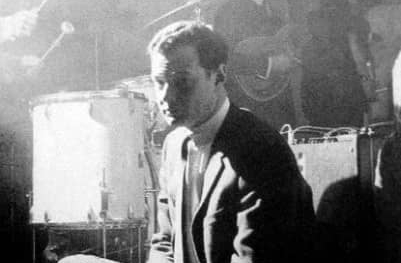 Epstein Statue Appeal – Still Needs Help From Brian's Friends…
Tuesday, 12 November 2019
A Crowdfunder campaign to create a lasting legacy to former Beatles' manager Brian Epstein has less than two weeks left to reach its target– and organisers are appealing for the support of the public.
The team behind The Brian Epstein Statue Project are urging Beatles fans, music fans, and local residents and worldwide supporters to throw their support behind the campaign.
The Brian Epstein Statue Project aims to create a world-first with a statue honouring the man fondly known as the Fifth Beatle, Brian Epstein.
Almost £10,000 has already been pledged – but there is still a long way to go to reach the appeal's £60,000 target.
The Crowdfunder appeal will close at 6pm on Thursday 21 November 2019 – so time is running out fast.
Pledges of any amount can be made and will be gratefully received, and a number of new rewards and incentives have also been announced as part of the appeal countdown.
A Beatles experience for the ultimate Fab Four fan includes a two-night stay for two people in the Lennon Suite at Hard Days Night Hotel in Liverpool, including breakfast and dinner, as well as tickets to The Cavern Club, The Beatles Story, The Magical Beatles Museum, and Magical Mystery Tour. Suggested pledge £1,300.
Enjoy a ride in a replica of John Lennon's vintage Rolls Royce. A personal driving tour from the owner will make it an unforgettable experience in this striking classic car. Suggested pledge £150.
Pledge £25 to own a limited edition mounted print signed by artist Tom Donahue and author Marie Darwin from the book, What Did Grandad Paul Do When He Was Little? There are just 10 prints available. 
Various levels of donation are also available including the Hall Of Fame, Certificate Of Support, and Add Your Own Clay. A full list of rewards and incentives is available on the Crowdfunding page.
The Beatles' former manager, Liverpool-born Brian Epstein, is credited with catapulting the Fab Four to global success. Yet there is no lasting tribute to recognise and celebrate the vital role he played in the band's history, nor how he changed the face and sound of popular music. Brian Epstein made history.
The Crowdfunder campaign was launched at the Epstein Theatre, located on Hanover Street in Liverpool city centre, which also marked Brian Epstein's 85th Birthday.
Project manager and cultural activist Tom Calderbank commented: "Brian needs a bit of help from his friends. We're encouraging, urging and pleading that people come together and be part of something special to celebrate Brian's legacy. We've worked tirelessly since the appeal went live – but it's proving to be quite a task. But we're not beaten – we've still got time. We hope the fantastic new incentives and rewards will generate more interest. 

"We think we've reached more than a million people worldwide through our appeal and media coverage – but it's just not enough. A big thank you to everyone who has already pledged, people have been very generous and understand what we are striving to achieve in Brian's name. If you believe in us and want to see this project happen, then please get involved. 

"Each and every one of us have something to thank Brian for – he changed the course of music and social history. That deserves a fitting lasting tribute in his honour."
The Brian Epstein Statue Project committee have wealth of experience and expertise across public art, publishing, theatre production, and the local Beatles industry. Collectively they have a strong desire to ensure the project is successful and are passionate that a lasting tribute to Brian and all he achieved in the history of popular music should be created in Liverpool to celebrate his role in history.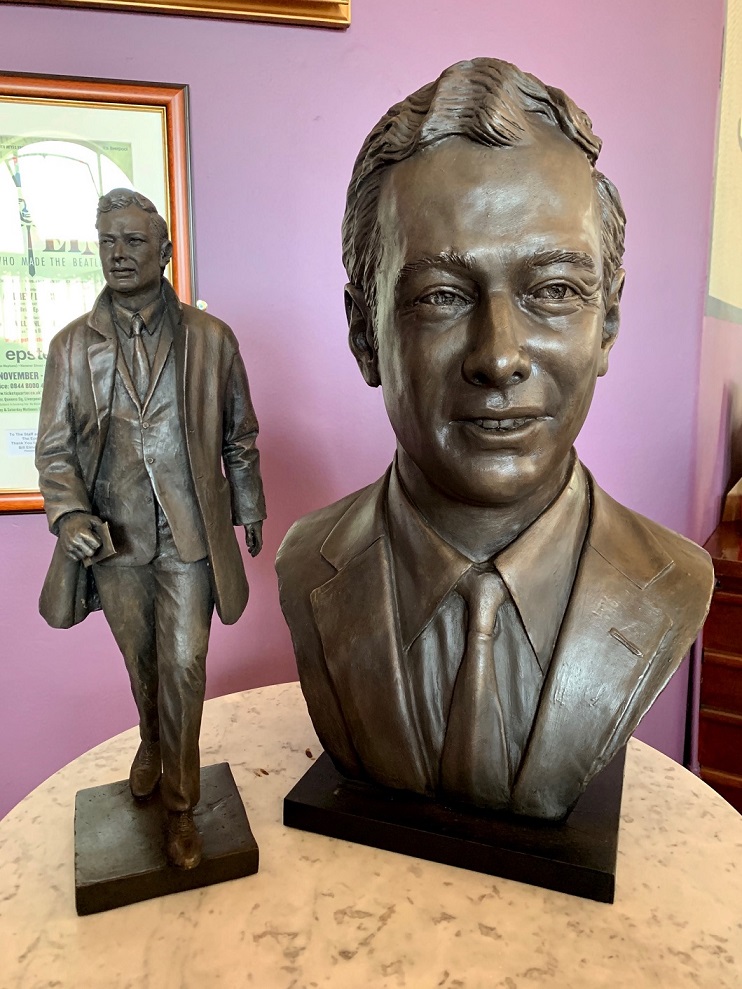 The committee includes cultural campaigner and activist Tom Calderbank; Beatles' fan Marie Darwin who was part of a group who campaigned for a plaque to be placed on the birthplace of Brian Epstein; Beatles' historians, researchers and authors Kevin and Julie Roach, and son Robert; Larry Sidorczuk was the personal assistant to the late Joe Flannery, Brian Epstein's original business partner and bookings manager; and Bill Elms, a producer of the smash-hit play Epstein: The Man Who Made The Beatles, which was staged in Liverpool and London's West End.
Brian Epstein owned NEMS record shop in Whitechapel. It was a lunchtime visit to The Cavern Club in the heart of Liverpool to watch a four-piece rock and roll band on 9 November 1961 which would change the course of history. Music and life in Liverpool would never be the same again. That band was The Beatles – who Brian would go on to manage.
In addition to managing The Beatles, Brain Epstein is credited to creating and developing the Merseybeat movement. He also signed a number of other performers including Cilla Black, Gerry And The Pacemakers, Billy J Kramer And The Dakotas, and The Moody Blues.
The Brian Epstein Statue Project has the support of Brian Epstein's family, and the Willis family representing the late Cilla Black.
The project is also being backed by Liverpool-born actor Andrew Lancel, who appears in a short video on the appeal's Crowdfunder page. The former Coronation Street and The Bill actor portrayed Brian in the smash-hit play Epstein: The Man Who Made The Beatles on stage in Liverpool and London's West End to critical acclaim. He later played Brian again in the recent tour of Cilla The Musical – and is a huge advocate of recognising all Brian achieved.
Author Kevin Roach recently published his latest book, Brian Epstein And The Beatles 1964: The Year That Changed The World – proceeds of which will be donated to The Brian Epstein Statue Project.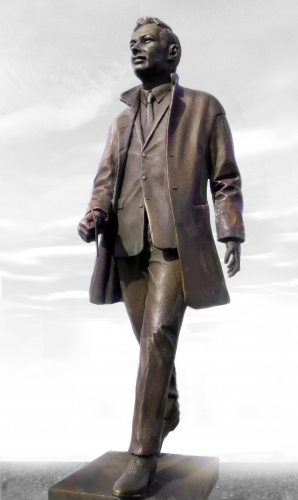 Sculptor Andy Edwards has been commissioned to create the state of Brian Epstein. Andy is best known for his iconic sculpture of The Beatleslocated at Pier Head Liverpool, part of the UNESCO World Heritage Site. Andy sculpted The Truce, which can be found in the grounds of St Luke's Church, depicting the historic moment on Christmas Day 1914 during the First World War ceasefire when a game of football spontaneously broke out between British and German soldiers. He also co-sculpted the statue of Cilla Black on Mathew Street.
Donations can be made by visiting https://www.crowdfunder.co.uk/the-brian-epstein-statue-project
Facebook:       @BrianEpsteinStatueProject
Twitter:           @EpsteinStatue
Video:             https://vimeo.com/359005122