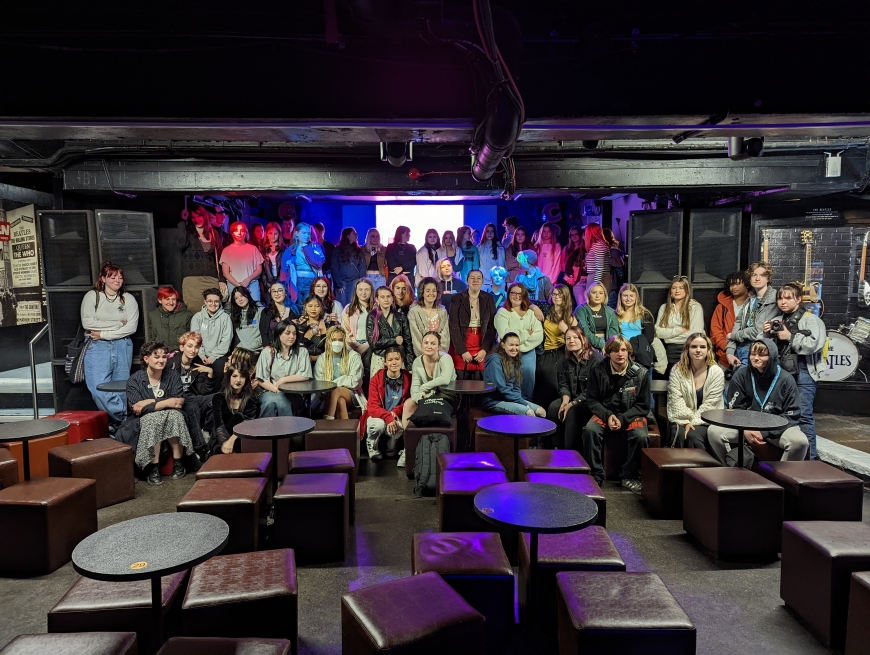 Hereford College of Art exhibit work at The Cavern Club
This week we are proud to exhibit the creative work of first year level 3 Art & Design students at Hereford College of Arts who have taken inspiration from The Cavern Club's rich musical heritage. 
Sixty-seven students aged between 16 to 20 years old, undertook a 6 week project to complete a real-life, professional commission. Working to a brief, they were required to create a visual that represents the Cavern brand and the breadth of music acts who have performed in this historic music venue since its opening in 1957.  
The project involved research into The Cavern's story through the decades from 1957 to present day. They individually took inspiration from the musical history of artists who had not only performed at The Club, but also shaped the world of popular music and culture.   
Curriculum Leader, Level 3 Art & Design  leader Darren Williams explains;
There is a strong link between art colleges and the music scene in this country with the likes of Keith Richards, Pete Townsend, Paloma Faith and of course John Lennon having been art students.
We at the Cavern, were tasked with the difficult job of choosing just 8 stand-out pieces of artwork to exhibit in our venue for you this week. 
Head of Marketing Victoria McDermott says;
All of the final submissions are of a high standard and so whittling it down to eight was a challenge for the Cavern marketing team. The eight were picked purely because we felt they met the creative brief and represented the Cavern brand.

We felt however, that all sixty-seven pieces deserved to be seen by our visitors, and as such we will be displaying them digitally throughout the Cavern Club this week. We hope that our visitors take a bit of time to view them.
Darren Williams says;
We have been particularly proud of the way the students engaged in a whole range of processes to produce their images across many workshops. It also enabled them to develop an understanding of picture resolution and composition. Alongside the making of the work they have developed a deeper understanding of British popular culture across the decades.
He adds;
It has been inspiring to work with the Cavern and see our college level students stretch their thinking and practical skills to create unique visuals informed by the music, the club, and the vibrant city of Liverpool.
The students who undertook the project are visiting The Cavern Club, many for the first time on Tuesday 28th June, where they will see their hard work on display.
The Cavern would like to say a huge congratulations and thanks to Hereford College of Art for this wonderful collaboration – artists of the future.