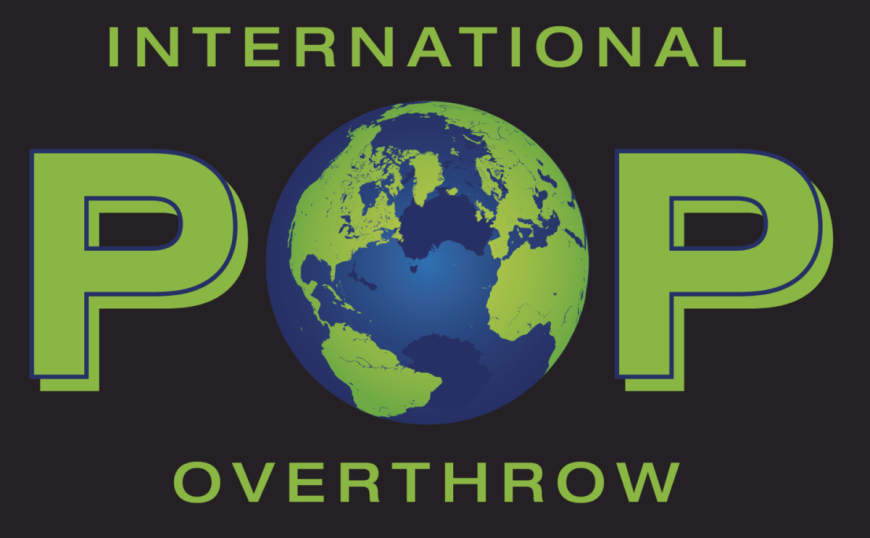 International Pop Overthrow is Back
INTERNATIONAL POP OVERTHROW IS BACK AT THE CAVERN CLUB!
THE FESTIVAL WILL TAKE OVER THE CAVERN CLUB'S LIVE LOUNGE STAGE AND THE CAVERN PUB FROM: SUNDAY 15TH MAY UNTIL SUNDAY 22ND MAY.
With the imminent return of the International Pop Overthrow to the Cavern Club we caught up with event organiser David Bash to learn a bit more about IPO.
What was the idea behind IPO?
I began International Pop Overthrow in Los Angeles in 1998 to create an environment where artists from all over the world could play their pop-oriented music with likeminded artists on the same bills, in front of people who would dig them? Many of these artists had expressed a desire to play their music in Los Angeles, and as it was (and is) my home base, the process was seamless. Once I began doing the festival in a bunch of other cities, each one became more "regional"…all but IPO Liverpool, where we still have acts from all over the world. I'm really proud of that, and I stand behind the quality of each and every one of them.
What is the selection process for IPO?
 My wife, Rina Bardfield, and I do painstaking research online to find the best acts from around the world. Thankfully, she has much more patience than I do and will go through long lists of artists, separating the wheat from the chaff. She knows my taste very well, and so she finds artists she's reasonably sure I would think would be the right fit for IPO. I then "audition" them, listening to their music and deciding whether or not to accept or reject them. Beyond that, bands will contact me out of the blue, and some of them actually turn out to be right for IPO (grins)! It's a lot of work but in the end all worth it.
What are some stand out memories from past IPOs?
How much time do you have? Seriously, the first IPO show in August of 1998 in Los Angeles, because you never forget your first; August 2001 in Los Angeles, at Spaceland, because that's where I got to know Rina and ask her out at the end of the show-we've been together since our first date a few nights later; certainly my greatest thrill was having Material Reissue play IPO Chicago in 2011; the band Material Issue had released their debut album, International Pop Overthrow, 20 years earlier. Tragically, lead singer/songwriter Jim Ellison had taken his own life not long before I began the festival, and I wanted to pay tribute to him by naming the festival after that album. In 2011 a reissue of the album was done by Universal Music. The two remaining members of Material Issue, Ted Ansani and Mike Zelenko, wanted to tour the album. They recruited a local musician called Phil Angotti to do Jim Ellison's parts, which he did tremendously well. Having Material Re-Issue's first show at IO Chicago in 2011 will likely always be the most memorable and most important to me.
What does it mean to have IPO at iconic venues such as The Cavern Club? And What does the Cavern Club mean to you?
In 2003 I got an e-mail from a Liverpool-based woman called Jean Catharell. She had heard about the festival and asked me if I'd ever thought of doing it in Europe. I told her the thought had certainly crossed my mind, but I hadn't made any plans, so she then asked if I would like to do IPO at The Cavern Club. You could have knocked me over with a feather, and I told her so; she said, "leave it with me for a couple of days, and I'll be back with you". True to her word, I heard back two days later, and she said, "they want to do it". I couldn't believe it! Thankfully it's been successful enough to warrant having it at The Cavern for what is now our 18th year.
The Cavern has long been known as "The Most Famous Club In The World", and I have no doubt that this is true. The Beatles connection has kept the name in the hearts and minds of people for sixty years! So to be able to hold the festival there has truly been an honour for me, and each year I come back it's all so surreal; who would have thought that my little event would wind up at such an iconic venue…but here we are, for our 18th go-round!
What does the future hold for IPO?
If you'd had asked me that in 2020, I would have had a different answer for you in the throes of the pandemic. Nobody knew how long the pandemic would last; certainly, many venues I've used in the past are now shut down permanently because they couldn't handle the financial strain of not being open during COVID. It looked for all the world like live music, as we knew it, would no longer exist. Fortunately, though COVID is still a real thing, vaccines have allowed businesses to reopen and live music to thrive again. With that in mind, I plan to do IPO until my health no longer allows me to do so, which hopefully won't be for at least a few years. I've been thinking about adding some international cities-we did Stockholm from 2015-to 2019, but COVID has taken a toll there-so. I'm not sure if or when we'll be back…but I've spoken to some venues in Copenhagen and Amsterdam, so one of these is a real possibility for 2023. Down the road, maybe Madrid or Barcelona, Sydney/Melbourne, Tokyo…anything is possible…and of course, we'll come back to Liverpool and The Cavern as long as they'll have us!
Which Beatle would you want to be stranded on a desert island with and why?
Great question, one which I'd never been asked! Although Paul McCartney's music is far and away my favourite of the Fab 4, both with them and his solo work. I think I would rather be stranded with John Lennon. I think we'd relate more on an intellectual level. He was also a man of the people, which is an ideal I'd like to achieve. I genuinely believe that if all the Beatles were still alive, the only one who would ever entertain playing IPO Liverpool would be John. Maybe it would be a "secret show", with just John and an acoustic guitar, but hey, I certainly wouldn't complain!
We can't wait to welcome back IPO to the cavern club, you can find out everything you need to know before your visit here.