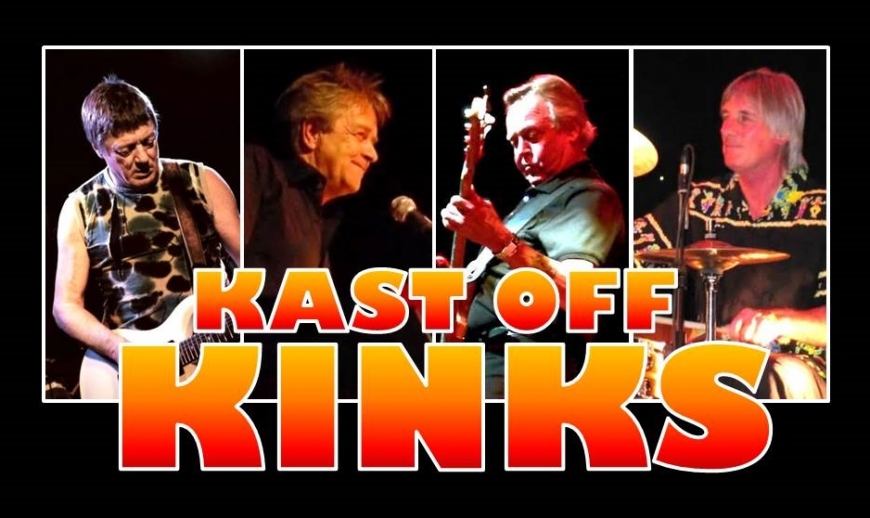 Kast Off Kinks Coming to The Cavern!
Wednesday, 11 October 2017
They are widely regarded as one of the most influential British bands of the 20th century, and their music continues to inspire and entertain a new generation of musicians and fans.
And now there's a chance to hear some of those great Kinks' numbers played by real members of the band.
The Kast Off Kinks make their Mathew Street debut next month, and they are promising a night of top tunes, from You Really Got Me to Come Dancing, by way of Waterloo Sunset, Days and Lola.
The line-up features ex-Kinks Mick Avory, the original drummer on all the classic hits from 1964-84, bass player John Dalton, and Ian Gibbons on keyboards, along with former Noel Redding Band singer – and Falklands War veteran – Dave Clarke.
Ahead of the show, we asked the band how the Kast Off Kinks came about, and just what Liverpool's dedicated followers of fashion can expect from their Cavern show?
Can you tell us more about Kast Off Kinks? How did the band all get together?
The Kast off Kinks were formed in 1994 by the original Kinks drummer Mick Avory (1964-84), John Dalton (bass – Kinks 60s & 70s), John Gosling (keyboards – Kinks 60s & 70s) and Dave Clarke (guitar/vocals). Dave was never actually in The Kinks, but a long-term friend who has played with the Beach Boys, Noel Redding and Tim Rose among many others. He plays both Ray and Dave Davies's parts in the band.
The two Johns retired and were replaced by Ian Gibbons (keyboards – Kinks 80s & 90s) and Jim Rodford (bass – Kinks 70s, 80s & 90s). John Dalton later came back out of retirement to replace Jim who was also touring and recording with The Zombies.
The band originally just played at charity events and Fan Club meetings to raise money for Leukaemia Research and Great Ormond Street Hospital following the death of John's (Dalton) son in 1979. We realised we had a good thing going and all got along well, so about six years ago decided to do some theatre shows. These escalated, and we now do around 70 a year across the country.
Why do you think The Kinks' music endures, more than 50 years after some of it was written?
We think it's probably the quirky, clever and often amusing lyrics and great choruses, especially Sunny Afternoon, Waterloo Sunset and Lola to name but a few. Everyone can sing along and the words seem to stick in your head.
Not to be forgotten are those great rock numbers You Really Got Me and All Day and All of the Night. All these songs are still played daily on the radio, everywhere.
What can people expect if they come to a Kast Off Kinks concert?
They can expect to hear a lot of Kinks hits from the 60s, 70s and 80s, along with some lesser-known album tracks and possibly some Kinks songs covered by other artists.
We also stick in a bit of humour, especially at the theatre shows. Our audience always have a great time singing along to a lot of fantastic songs played by a great band, surprised at how many songs they know.
Which song or songs get the biggest reaction from your audience? And which are your own personal favourites and why?
We would say probably Days, Sunny Afternoon, Lola and You Really Got Me get the biggest audience reaction. Days is poignant in the way that it demonstrates the importance of friends and family, and how fragile life is.
It's difficult to have a favourite song as we enjoy playing them all, but for John it's definitely Shangri-La, mainly because it was the track that he most enjoyed recording and playing with the Kinks.
What are you particularly looking forward to about appearing at the Cavern? Have any of you appeared on stage here before – and if so, what are your memories?
We're all looking forward to playing at this historic venue which will not only be The Kast off Kinks first appearance at the Cavern, but also our first time playing in Liverpool with this line-up.
Strangely, Waterloo Sunset was originally going to be titled Liverpool Sunset, but would that have worked so well.
Re: previous stage appearances at the Cavern:
Mick: "Yes, I played at the Cavern when I first joined the Kinks in 1964. It was like one of those tunnel gigs in Bristol. Herman's Hermits were on with us, who we thought were c**p, and when I spoke to Peter Noone he thought the same about us. But the audience liked us even without doing any Beatles numbers."
Dave: "I have never played at the Cavern, but played with lots who did – Johnny Gustafson springs to mind since he was in the Big Three when they recorded the Live at the Cavern EP."
Ian: "Yes, I played twice at the Cavern in the early 70s, once supporting the Alan Bown Set with Moonstone and the second time as Life, which was basically the same band, but with better gear!
"It was a very small stage in an archway and I remember the road crew having to fend off some teens with a mic stand outside, to stop them nicking stuff while we were loading up the van!
"The third time was in the current venue with Ian Hunter in around 2000. It was a great crowd and good gig – I really enjoyed that one. I'm hoping that this show goes down as well, as I know Liverpool to be a friendly and boisterous audience."
John: "No, this will be my first time which I'm very much looking forward to."