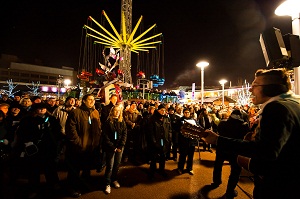 LIVERPOOL TO MARK ANNIVERSARY OF LENNON'S DEATH
Thursday, 6 December 2012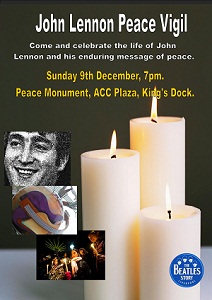 LIVERPOOL TO MARK ANNIVERSARY OF LENNON'S DEATH WITH VIGIL AT EUROPEAN PEACE MONUMENT
Beatles and Lennon fans from all over the world will make their way to Liverpool on 9th December to mark the anniversary of John Lennon's death with a candlelit vigil taking place at the city's European Peace Monument dedicated to John.
WHERE –
EUROPEAN PEACE MONUMENT DEDICATED TO JOHN LENNON,
ECHO ARENA LIVERPOOL,
KINGS DOCK,
LIVERPOOL WATERFRONT L3 4BX
WHEN –
SUNDAY 9TH DECEMBER 2012
7PM GMT
This will be the third year that the city has marked the occasion at the Peace Monument and organisers hope that the event will be the largest yet.
Since its unveiling by Julian and Cynthia Lennon on October 9th 2010 the monument – entitled 'Peace & Harmony' – has become a popular focal point for visitors to the Beatles' home city looking to celebrate Lennon's life and message of peace through music.
Now located at its permanent home outside Arena & Convention Centre Liverpool (ACC), the European Peace Monument is the first physical focal point for fans to congregate and remember the artistic and creative legacy of a world icon.
The annual peace vigil is being organised by Liverpool's award-winning Beatles Story, the attraction responsible for bringing the European Peace Monument to Liverpool and the recent successful Guinness World Record attempt that celebrated the 50th anniversary of the release of The Beatles' debut single.
Jerry Goldman, MD of The Beatles Story comments:
"The eyes of the world will be on Liverpool once again as we celebrate the life of John Lennon with our annual peace vigil. Last year's event was a wonderful success and was covered by newspapers, TV and radio all over the world.
"With the fiftieth anniversary of the release of the first Beatles single being celebrated this year we expect another wonderful turnout of friends and admirers to celebrate the life of the great man."