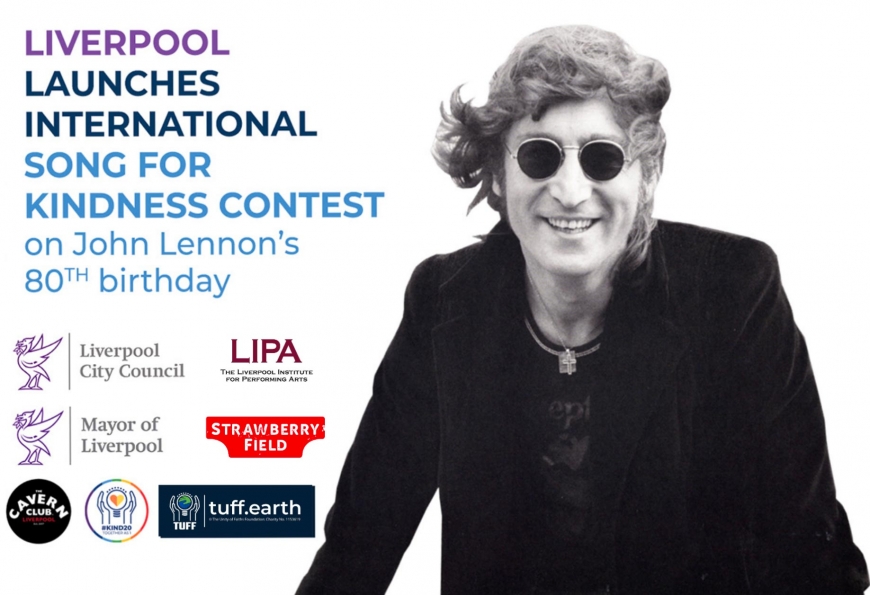 New partners join The Cavern and others in their quest to find 'The Liverpool Song for Kindness'
Tuesday, 16 February 2021
The Liverpool Song for Kindness (LSK) song contest that was launched in memory of John Lennon, in what would've been his 80th year, has brought on new partners. In addition to global charity tuff.earth, Liverpool City Council and The Cavern Club running the competition, Liverpool Institute for Performing Arts (LIPA) and Strawberry Field are now part of the unique collaboration.
In response to the dark times the world has been facing, the aim of the song contest is to raise spirits – whilst offering musicians an exciting opportunity to gain international exposure and a fantastic prize for the winner. Following the example of John Lennon's Imagine, the song contest is searching for a song of hope and optimism.
Any genre will be considered for entry however the song must be an original piece of work submitted by the songwriter and performed by the songwriter or a nominated artist. To enter the competition, songwriters and musicians can submit their track (video or audio), song name, writer, performer, lyrics and where they are based via the competition's online portal HERE.
The closing date for entries is July 4th 2021 – the 50 year anniversary of the recording of John Lennon's Imagine – and the Top 50 entrants, as selected by the competition judges, will be announced on August 14th 2021.
On September 14th 2021, the Top 10 will be announced and will be subject to extensive marketing before being passed to an expert panel of judges. The Top 3 and competition winner, as selected by the expert panel, will be declared on October 9th 2021 and a very special prize is in store for the winner.
In addition to receiving a great deal of exposure and marketing for winning the competition, the winner will be awarded the prize of having their track professionally produced, mixed and mastered at The Motor Museum by Daniel Xander from Music R3volution.
Liverpool's iconic Motor Museum studio is owned by OMD's Andy McCluskey and it has produced music for the likes of Oasis, The Arctic Monkeys, Ben Howard and Jake Bugg. The winner will benefit from Daniel Xander's production expertise, having worked with The X Factor stars such as Anthony Russell and having been a Contributor for The X Factor and Britain's Got Talent.
The LSK competition is part of the KIND20 initiative from global charity tuff.earth – an ongoing project that aims to promote kindness in response to Covid-19. The project has so far reached over 7 million people worldwide through its #KIND20 projects in communities and schools around the globe.
The inaugural LSK competition is open for entries until July 4th 2021, with the winner announced on October 9th 2021. The ground breaking concept brings together some of Liverpool's most famous institutions and a global charity to deliver a message of hope and kindness for the future, whilst giving musicians an exciting opportunity for exposure.
To enter the contest visit the online portal HERE
Check out the competition on the tuff.earth website HERE
Anna Prior & Dr Shamender Talwar, Co-founders of tuff.earth, said: "The LSK is inspired by the message of Imagine, the world's most-popular anthem for unity, peace and kindness. And that song pretty much says what this is all about – in the grip of Covid-19 Liverpool, and indeed the world, must come together and be as one."
Bill Heckle, Director of The Cavern Club where The Beatles first performed on the lunchtime of February 9th 1961, said: "We've just marked the 60th anniversary of when and where it all began. The Cavern Club is supporting this contest in the hope that it will begin something truly great again."
Kevin McManus, Head Of Music UNESCO for Liverpool City Council said: "Over the past year, music has become even more important — bringing some light into what has been dark and worrying time for us all."
He continued: "As a UNESCO City of Music we embrace music in all its forms and recognise the deep rooted role music plays in everyday life. We're proud to be the host city for the Song for Kindness contest and look forward to hearing the submissions."
Martin Isherwood, Head Of Music for LIPA, said: "As 'World Capital City of Pop' and the home of the world's best songwriters and songs, it's great to see Liverpool once again leading the song writing world in the search of a song for these dreadful times and to inspire songwriters to use their skill and creativity to promote what the world needs now: human kindness."
Major Kathleen Versfeld, Mission Director Of Strawberry Field, said: "2020 will be remembered as the year in which humanity united around a common foe, Covid-19. It was painful and sad but we learnt an important lesson: we need each other. For me to be safe, you must also be safe. Wouldn't it be amazing if 2021 became the year in which the world danced to a new tune, with the common good at the heart of the melody, and kindness and love providing grace notes in a rousing universal chorus."
She continued: "Wouldn't it be great to find through this competition the musician or musicians who can put all the goodness and kindness we discovered at the heart of humanity during this awful pandemic into a song for future generations to hum and hold onto in their dark days. That would be awesome wouldn't it?"