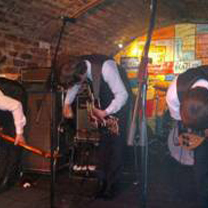 It's the end of an era for The Mersey Beatles
Tuesday, 14 February 2012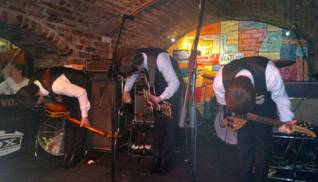 For the last ten years or so, Thursday night at the Cavern has meant only one thing – 3 hours of Beatle classics in the company of Liverpool's very own The Mersey Beatles. The Cavern's resident Beatle band have been wowing audiences during that time with their show and have certainly done The Beatles and The Cavern very proud. Indeed, only last year they equalled The Beatles 292 appearances at the club, and are now well and truly over the 300 mark!
As George Harrison said though, "All Things Must Pass", and so it is on Thursday 23rd February, The Mersey Beatles will take their final bow at the most famous club in the world. Due to their growing theatrical commitments and a busy schedule in the UK and overseas, the band will step aside on a Thursday but very much hope to return for special concerts throughout the year. Plans are already in place for an annual homecoming show at which they hope to perform on the last Friday of February every year to coincide with their first gig as residents at The Cavern all those years ago.
The Cavern Club wishes The Mersey Beatles continued success and thank them for doing such a great job over the last ten years. We will continue our Thursday Beatle Night, and look forward to unveiling our new resident Beatle band very shortly – watch this space!
Don't miss The Mersey Beatles final gig as the Cavern Club's resident band on 23rd February 2012.