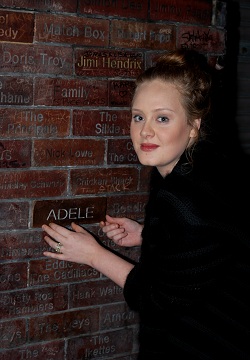 What a difference a year makes – Adele at the Cavern Club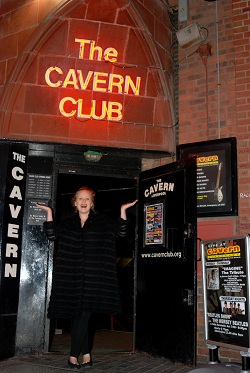 Can it really be 12 months since global superstar Adele performed at the World Famous Cavern Club? The loveable London Singer/Songwriter wowed the audience in what turned out to be one of her last 'small' gigs just weeks before the launch of her album '21' rocketed her to global superstardom. To celebrate the anniversary, this week the Cavern is offering its website visitors and social media followers the opportunity to win a Classic Logo T-shirt or Zip Hoody, which feature an impressive list of artists who have played the club including Adele.
Adele's exclusive gig was brought to The Cavern on 5th January 2011 courtesy of Smooth FM and was the perfect way to kick off the Cavern's year of events. Performing a mix of songs from her 2 albums '19' and '21', Adele sang with soul, precision and emotion as her and her pianist Miles captivated the intimate Live Lounge audience as they listened and watched the note perfect songstress intently. The performance was followed up with a relaxed Q&A session in an 'audience with' style that allowed for questions from the audience. Adele spoke with ease and provided anecdotes that showed off her confident, grounded and witty personality which, along with 'that' voice has been instrumental in her rise to fame these last 12 months.
2011 proved to be the year of Adele when her album '21' (released on 24th January) debuted at number one in both the UK and US charts in its first week.
Click on the links below to watch Adele perform live on stage at the Cavern 
To be in with a chance to win a Classic Logo T-shirt just answer this question:
Q: Which famous band is listed before Adele on the back of the Classic Logo T-Shirt?
Email your answer along with your name and address to [email protected]
The competition closes on Thursday 12th January with the winner being announced on Friday 13th January.