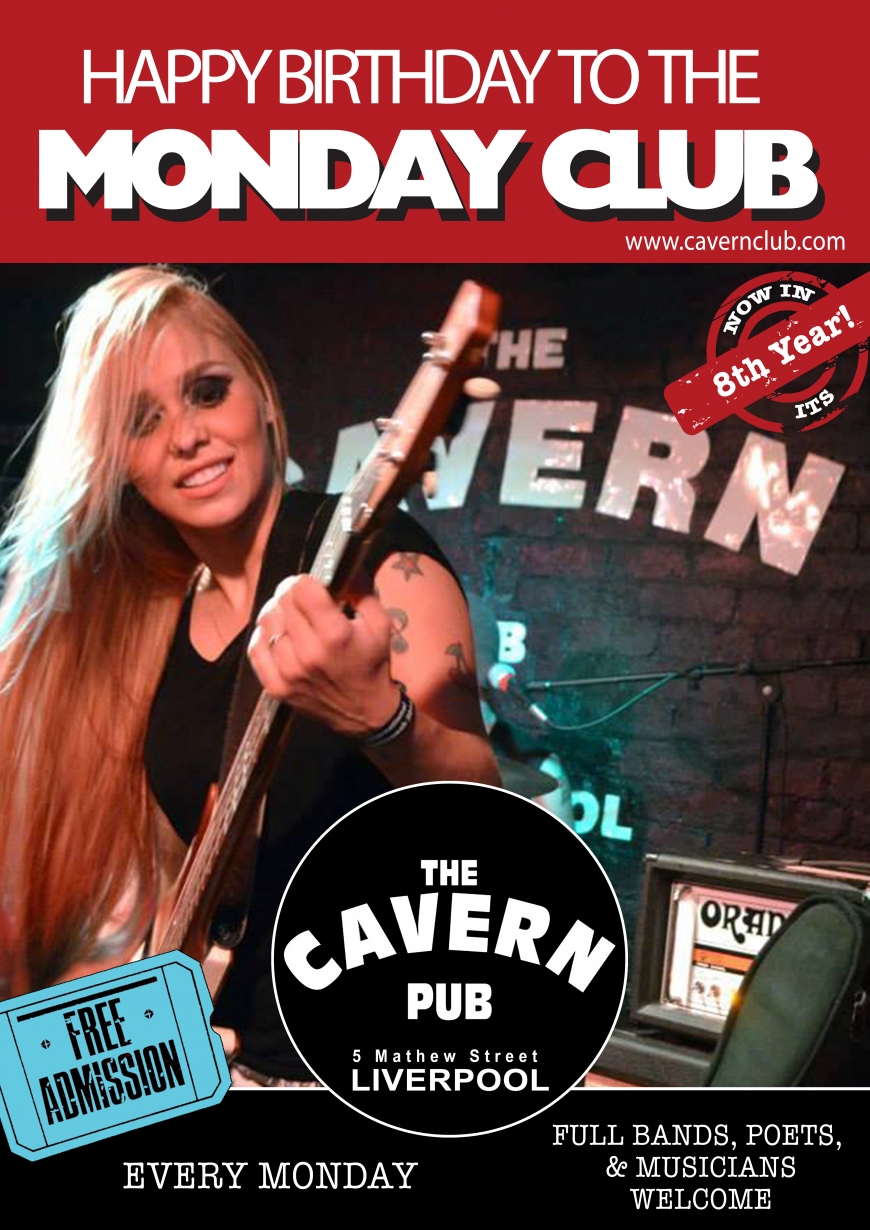 The Monday Club at 8 years!
The Monday Club takes place every Monday at The Cavern Pub and has been a regular fixture for 8 years now.
We decided to sit down with Ian Prowse, the founder of The Monday Club and ask him about the club and how it feels to reach this milestone.
Why did you start the Monday Club and what were your initial plans/ambitions for it?
The Cavern contacted me to see if I'd like to host an open mic and my initial reaction was absolutely not, who wants to hear loads of lads doing Wonderwall to death, it would drain me.
Around this time I visited my friend Miles Hunt from legendary Midlands band The Wonder Stuff, he lives in the Shropshire countryside and his local pub The Bridges was running a night of music. 5 acts got up of incredible quality playing for 15 minutes each and I didn't know a single song.
I said to the Cavern lets do the same thing, strictly no covers, open it up to full bands, poets, playwrights, comedians and anyone creative…. and let's give it a name. I felt really comfortable with it all that way, I could put my heart and soul into it.
So The Monday Club was born.
They said ok, we'll give you 6 weeks, see if it sticks. It stuck.
How has the club changed/developed over the past eight years?
It's become a real institution, people come in from all over just to play their 3 songs, I don't just mean the UK either. Because of the reach and reputation of the Cavern Club, we get people from all over the world wanting to play.
The format has remained the same since day one, every act gets a warm welcome to the club, every performance gets a rousing introduction and when they've finished everyone gets a cheer off the stage. The only difference is I worked out how to use the monitors about 2 years ago
Can you tell us about any success stories that have come out of the club?
Almost every act whose broken outside of the city limits in the past 8 years has played at the Monday Club. Some, like Red Rum Club, have used the night to hone their act, do an apprenticeship almost, turning up week after week for months on end until they have gotten to where they want to be, it's great for that.
Of course, we've had plenty of well-known artists turn up to sample our delights, Damien Dempsey, Dr. Robert, Miles Hunt, Hurricane #1, Ian McNabb, Lee Mavers, The Real People to name but a few. I'm still working on Elvis Costello …
Talking of birthdays, it's 30 years this year since you started Pele and 20 since Amsterdam was formed. How useful would a 'Monday Club' have been for you if it had existed then?
Pele would definitely have used it. It's not just the vital on-stage experience, it's the people you meet, it's the connections. Young bands who come in know that I know everyone, we can help them get in touch with labels or management or just give advice on what to do next. 
Looking to the future, what's next for the Monday Club?
It will ebb and flow, we'll go quiet for a couple of weeks, sometimes people think it's too popular to get on, it'll then go back into a purple patch, more crazies will turn up, unforgettable nights will ignite, people will come together, bands will form, music will never stop. 
And of course 'Hide The Sausage' by the Southbound Attic Bound will thrill a whole new set of patrons. 
Finally, can you tell us – DOES this train stop on Merseyside?
Yes! And it will carry the righteous and the crazy, its is Liverpool after all.
The Monday Club takes place every Monday and is run by Ian Prowse, tickets are not needed, you can arrive on the night. For any questions, send them Ian's way via his personal Twitter account.