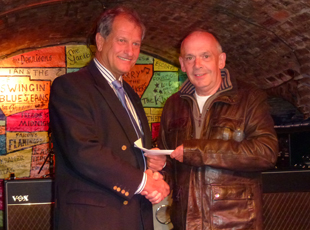 Cavern backs Grand National Champion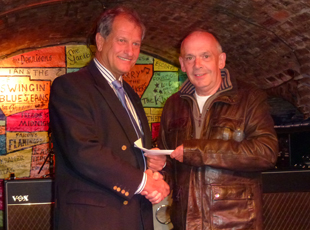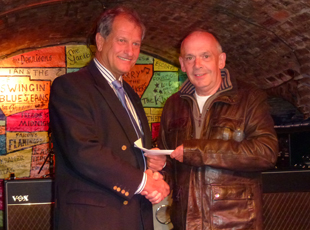 The Cavern and Heineken UK are pleased to announce that their long standing trading relationship is stronger than ever and set to continue. The impressive portfolio of local and international brands which Heineken offer provides thousands of UK and international visitors who come to the Cavern each week with a top quality choice of refreshments to match the top quality live music the Cavern presents every afternoon and evening.
In a visit to the Cavern during this week's Grand National Festival, Regional Sales Director for Heineken UK, David Pritchard brought with him legendary jockey Bob Champion.
In the late 1970s Bob was diagnosed with cancer. Rather than succumb to the disease Bob staged a miraculous recovery and went  on to win the 1981 Grand National steeple chase on the horse Aldaniti  Bob's determination and dedication continue to inspire athletes today.
Bob's story was made into a successful film Champions starring John Hurt.
During Bob's visit, Cavern Director Dave Jones presented him with a donation to the Bob Champion Cancer Trust. Bob is seen on stage receiving the donation.
The Cavern and Heineken UK are now planning a special fund raising event for the charity to take place before next years Grand National.  Details will be announced soon.
Click here for more about the Bob Champion Cancer Trust.