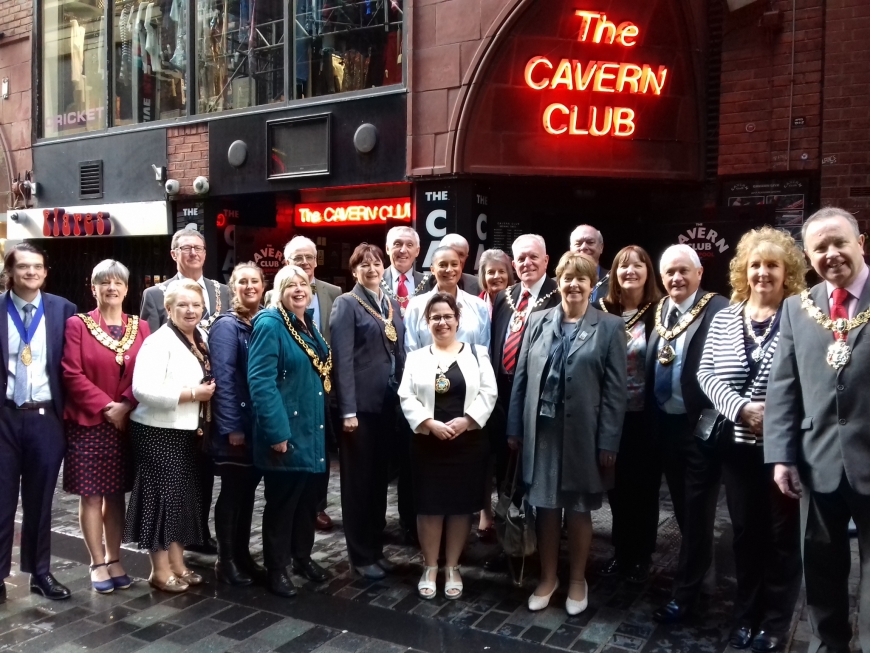 Cavern welcomes Mayors and Lord Mayors in official visit
The Cavern has welcomed a host of Mayors and Lord Mayors as part of a special day out for the civic chiefs.
Liverpool Lord Mayor Cllr Roz Gladden was hosting the day long event to show off the city's attractions.
And after starting the morning with a turn around the newly-unveiled Minton tiled floor at St George's Hall it was all aboard the Magical Mystery Tour bus.
The first stop for the group, which included the Lord Lieutenant and High Sheriff along with the Lord Mayors of Liverpool, Chester and Hale, and Mayors of Wirral, West Lancs, Knowsley, Halton and Maghull, was Mathew Street, where the Cavern's Neil Brannan gave them a tour of the most famous club in the world.
Cllr Gladden said: "The Cavern is the essence of Liverpool, among other things
"You definitely get a feeling when you're here. I last came when they unveiled the Cilla statue earlier this year."
Among the party having their photographs taken in front of the famous Cavern stage was the Lord Mayor of Chester, Cllr Angela Clayton, who revealed she had enjoyed an afternoon at the club during International Beatleweek.
And she also recalled seeing the Beatles as an 11-year-old ­– although not in the best of cellars.
She said: "It was 1963 and we went to Llandudno for the day. The Beatles were playing that night and it was near my birthday so I asked my dad if we could go.
"He said 'we'll not get in', but we got tickets that afternoon for the evening. I think I Want to Hold Your Hand was at number one.
"I remember my dad wouldn't let us stay and get autographs afterwards. I always blamed him for that!"