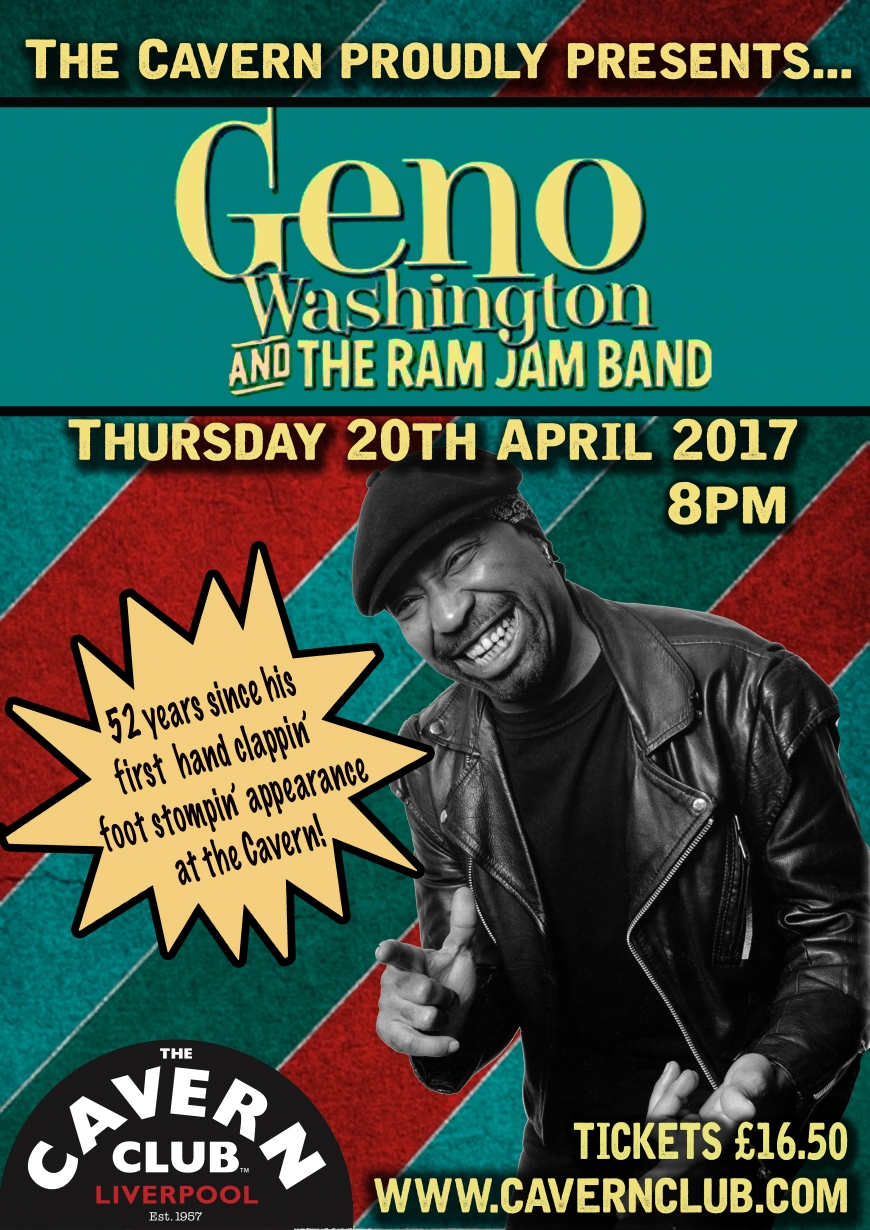 Hand Clappin' & Foot Stompin' with Geno Washington!
Geno Washington might notice a few changes when he returns to the Cavern this month. But that's not surprising when you consider his last date at 10 Mathew Street was almost 52 years ago.
The then 22-year-old, freshly demobbed from the US Air Force, appeared at the club in July 1965 with the newly-formed Ram Jam Band in one of their earliest shows outside London.
And it's with the current incarnation of the band ­– named after the old Ram Jam Inn in Rutland – that the 'good time guro' is due to rock the most famous club in the world on April 20.
Geno Washington and the Ram Jam Band have long forged a reputation as being one of Britain's most exciting live outfits, bringing soul to the people.
Interestingly however, a young Geno reputedly honed his musical craft by performing Beatles and Gerry and the Pacemakers' covers, and started to visit London's famous Flamingo Club after a recommendation from Shane Fenton – born Bernard Jewry, although later better known of course as Alvin Stardust, and who in the 60s was married to Rory Storm's sister Iris Caldwell.
Talking of musical relations, Geno Washington's own brother-in-law is Herman Hermits' Peter Noone.
Indiana-born Geno had first come to England in 1961, having joined the US Air Force, thereby avoiding being drafted to Vietnam.
A PT instructor and armed forces high hurdles champion, he had never sung until he landed on UK soil – although cheekily, he liked to tell people his mum was Dinah Washington and his sister was one of the Vandellas.
Geno Washington and the Ram Jam Band went on to have two of the biggest-selling UK albums of the 1960s, with Hand Clappin' Foot Stompin' Funky Butt…Live! remaining in the album chart for an amazing 48 out of 52 weeks in 1966.
Only The Sound of Music soundtrack and Simon and Garfunkel's Bridge Over Troubled Water sold more copies in the UK that year.
It was also the year Geno appeared on Ready Steady Go! with a certain Cilla Black.
Aside from his memorable live performances, Geno Washington has enjoyed a fascinating 50-year career with highs, lows, and some unexpected twists and turns.
Did you know, for example, that in the 1970s he studied hypnosis and meditation, and would later do Hypnoshows at UK universities which were half stage hypnosis and half soul and blues music?
There was his surprise appearance a decade ago, playing himself, in an episode of Midsomer Murders whose cast also included Suzi Quatro and singer Roger Chapman.
He's also written children's stories.
And then, of course, he was introduced to a new generation of music lovers when Dexys Midnight Runners' Kevin Archer and Kevin Rowland penned the song Geno, the band's first number one, in tribute to him.
Oh Geno!
Geno Washington at the Cavern Club 20 April. Tickets £16.50 available here.