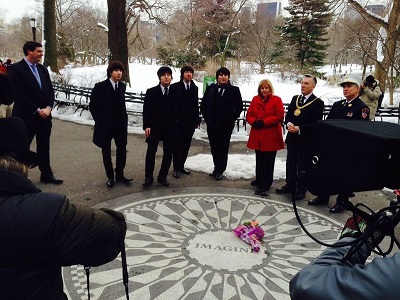 Central Park sing song, Ed Sullivan recreation and the 5th Beatle!
Central Park sing song, Ed Sullivan recreation and the 5th Beatle!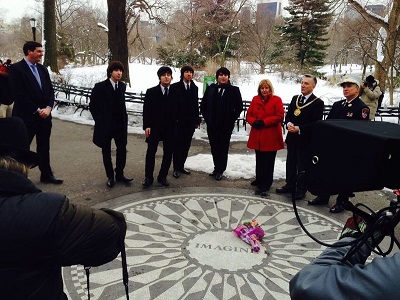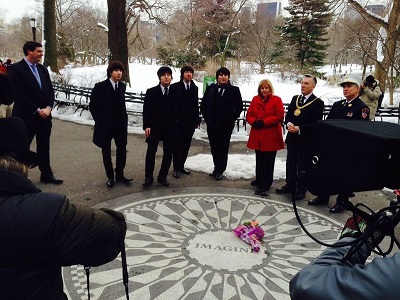 It was another fantastic and special day for the Liverpool visitors in cold New York yesterday as the Lord Mayor of Liverpool, Gary Millar and deputy Mayor Wendy Simon spoke at the ever poingnant Strawberry Fields in Central Park. The memorial to the late and very great John Lennon is a special place for any Beatles fan and so especially fitting that the Liverpool contingent representing our City should visit the site. The Cavern Club Beatles couldn't resist a sing song whilst there too! Watch their video here
Whilst in the vicinity the lads visited the Dakota buildings where John Lennon lived with Yoko Ono during his time in New York and was sadly the place where he died in 1980. It was another very special place for the lads to vist whilst in the City.
There was still plenty of time to goof around however, and ahead of the evening's show at Broadway's Town Hall Theatre, the lads and Lord Mayor of Liverpool somehow found themselves entertaining a New York street crowd with a rendition of Ticket To Ride!  Watch the video here Hurry up lads the meter's running!
The full-on day was topped off with the eagerly anticipated show at the Town Hall Theatre where The Cavern Club Beatles re-created the Ed Sullivan set from 1964. Catch a small snippet of the performance here Needless to say the four lads from Liverpool went down a storm.
Wow! What a day! Oh yes…the secret of the '5th Beatle' was finally uncovered today as the lads were joined by Ellie the Poodle! Perhaps they meant the 5th Beagle and just got their breeds mixed up!
After all yesterday's mayhem the party are up and about early this morning preparing for their appearance at Beatle Fest followed by their show at Hard Rock, Times Square – this is the BIGGIE! More on this tomorrow.