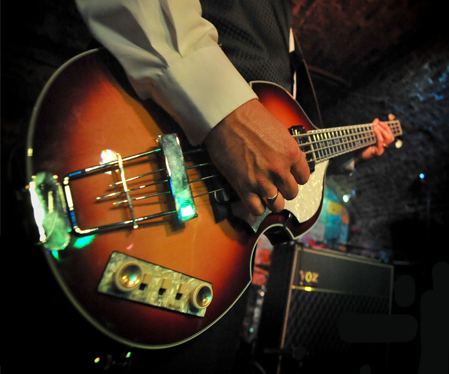 Internationally renown brands Höfner and The Cavern Club come together in endorsement deal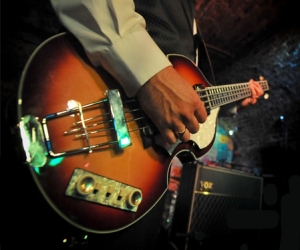 Two internationally recognised brands both synonymous with The Beatles have come together in a new partnership deal. The world leading musical instrument manufacturer Höfner have endorsed the world famous Cavern Club and their resident Beatles tribute band, The Cavern Club Beatles. The new partnership is set to be officially launched on 11th June at a special celebration to be held at the iconic cellar club on Mathew Street.
Höfner have had a long standing connection with The Cavern ever since Paul McCartney started playing their most famous instrument, the 500/1 Violin base (now simply known as 'The Beatle Bass') on stage at the Cavern in 1961 after purchasing one in Hamburg.
Paul continues to play the Violin Bass made for him by Höfner back in 1963 at every concert today.
Cavern Director Jon Keats says "The Cavern Club and The Beatles will be forever associated, and quite rightly after the band's 292 appearances at this legendary venue. You can't think of Paul McCartney without visualising that iconic violin bass guitar – that Höfner guitar!
We are already proud to be endorsed by Ludwig and Vox who are also associated with The Fab Four, and now we are delighted to officially welcome Höfner to the Cavern, even though they have actually been here since 1961! It's going to be a great night and a great partnership."
The official launch party on 11th June is set to take place in the Cavern Live Lounge, which played home to Paul McCartney's homecoming gig in 1999, and is open to the public who are all welcome to join in the celebrations from 7:30pm. Plans for the event include a full evening of entertainment from Höfner endorsed musicians Original Replica, Thomas McConnell, Cavern resident Merseybeat tribute band The Shakers and The Cavern Club Beatles. Audience members will also be given a great photo opportunity to pose on the iconic Cavern 'Beatles stage' with the legendary Violin Bass which one lucky winner will be taking home with them on the night!
Nick Wass, Marketing Manager at Karl Höfner GmbH & Co KG who will be travelling to Liverpool to head up the event says "We are delighted to be associated with The Cavern in Liverpool, with all of the heritage of this truly magical venue, it is, after all, only natural that we should be there. Jon and his team have made us very welcome, in fact made us feel very much at home and we are looking forward to a fun filled evening on the 11th of June. It will be good to see Liverpool again, meet everyone who comes along and to listen to the great bands who will be playing. Yeah, we will be back where we belong!"