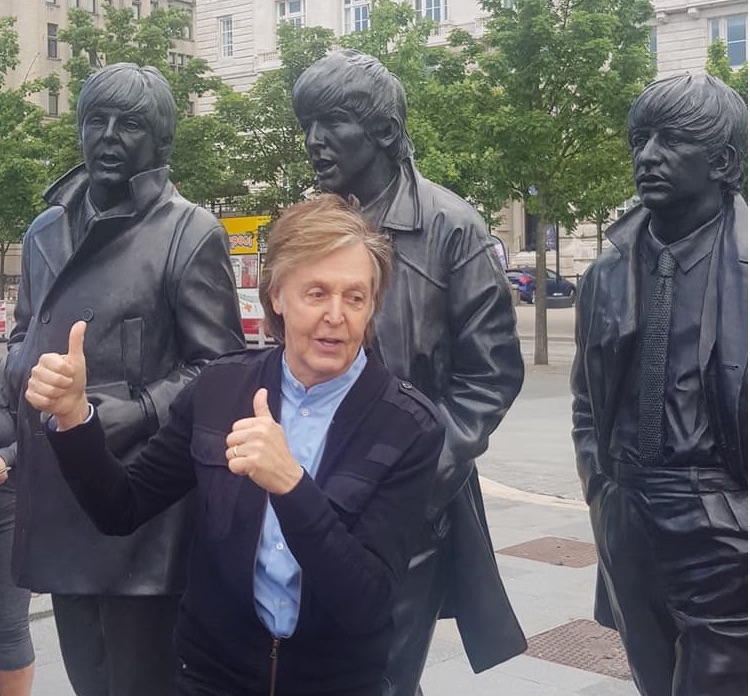 Macca's Mystery Tour
…Or not such a Mystery Tour for Paul McCartney who revisited his old Liverpool haunts last Saturday. Some of our lucky Magical Mystery Tour passengers were shocked as they stood taking photographs of the house on Forthlin Road which was home for the McCartney's from 1955 to 1965, only to see Sir Paul himself emerge from the front door!
On-lookers were stunned and excited to witness such an event which, in 35 years of operating the Magical Mystery Tour, we have never seen before! Karen Johnson was one such passenger who said:
"It certainly was a day to remember. I'd been on the tour last year with friends and was very impressed, so much so that I wanted to take my partner. We live in Canada but are Brummies . We had been visiting family and friends back home. I decided to take Tony on the tour last minute before we flew back to Canada on the Sunday from Manchester. What a treat! Macca at his family home!!!, perfect end to our trip!! Many thanks for giving us an experience to dine out on for the rest of our lives."
Karen managed to capture the moment Paul emerged from 20 Forthlin Road WATCH THE VIDEO NOW
Sir Paul was visiting his hometown with actor, writer and TV presenter James Corden for the filming of James' popular 'Carpool Karaoke' feature which he produces for his American hit TV show  'The Late Late Show'.  Paul was also seen walking down Penny Lane as well as visiting the beautiful Beatles Statues located on Liverpool's World Heritage Waterfront. The statues were gifted to the City by our Cavern Club owners back in 2015 to mark 50 years since the Fab Four's last performance in Liverpool.  Beatles tour guide Jackie Spencer  had the privilege of being at the statues and captured the moment when Macca turned up to have a look. It's great to see that he gave them the thumbs up!