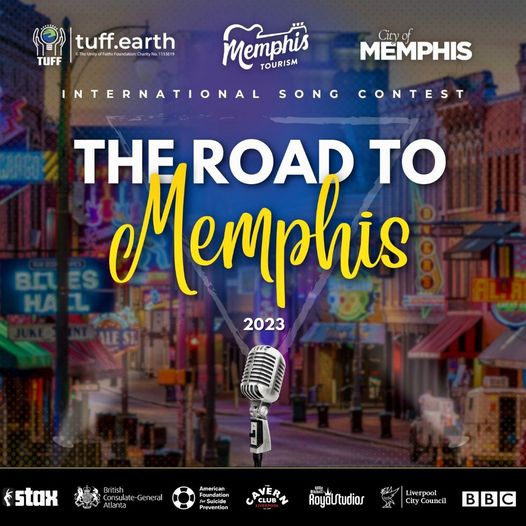 Memphis and Liverpool Unite for the Launch of World's Largest Music-Based Mental Health Project
The Unity of Faiths Foundation (TUFF) has unveiled a groundbreaking global song contest aimed at promoting mental health within the music and creative community. The launch event, streamed live from the iconic Stax Museum of American Soul Music in Memphis, marks the beginning of an inclusive initiative that showcases global music cities while fostering emotional expression through music.
Memphis and Liverpool are set to make history as they join forces for the launch of "The Road to Memphis," the world's largest music-based mental health project. This groundbreaking initiative, conceived and spearheaded by the Unity of Faiths Foundation (TUFF), aims to highlight the mental health needs of musicians and songwriters while providing a platform for global talent. The launch event, featuring esteemed speakers and representatives from both cities, promises to captivate audiences worldwide.
The concept behind "The Road to Memphis" is to use the universal language of music to shed light on mental health challenges faced by individuals in the music and creative industries. TUFF, headquartered in Liverpool, envisions this global song contest as a vehicle for promoting emotional expression while also raising awareness about mental health issues and providing pathways for free care sessions.
The kick-off event will take place on June 2, with a livestream connecting the Stax Museum of American Soul Music in Memphis, UK Parliament in London, and the legendary Cavern Club in Liverpool. The event will feature notable speakers including Lord Syed Kamall from the House of Lords, UK Parliament, Liverpool's Metro Mayor Steve Rotherham and Mayor Jim Strickland of Memphis, among others. This collaborative effort demonstrates the commitment of both cities to addressing mental health concerns within the music and creative community.
"The Road to Memphis" aims to discover original talent and offers finalists the opportunity to perform in Memphis in November 2023. The inaugural song contest held in 2022 witnessed remarkable engagement, with submissions pouring in from 35 countries and a staggering total of 22,421 song entries. Notably, more than 3,500 participants sought and received mental health assistance, with 340 individuals from Tennessee benefiting from the support provided.
The project has garnered widespread support from sponsors and supporters, including the City of Memphis, Memphis Tourism, Stax Museum of American Soul Music/Soulsville Foundation, the British Consulate – Atlanta, the American Foundation of Suicide Prevention, Royal Studios, Liverpool City Council, BBC, UK House of Lords, and The Cavern Club.
By combining the power of music with a focus on mental health, "The Road to Memphis" sets a new precedent in the music industry's commitment to supporting the well-being of its artists. As the project unfolds, it is expected to inspire and uplift individuals worldwide while nurturing a more inclusive and caring music community.
Details of the live event are as follows:
WHEN: June 2, 10:30 a.m. CT, 16:30 pm BST
WHERE:
–  Stax Museum of American Soul Music, 926 E. McLemore Ave, Memphis 38106, USA
–  UK Parliament London, UK
–  The Cavern Club Mathew Street, Liverpool, UK
–  LIVESTREAM LINK (via Facebook) : https://fb.me/e/GZt6eChL
For more information and updates on "The Road to Memphis," please visit https://www.roadtomemphis.us.