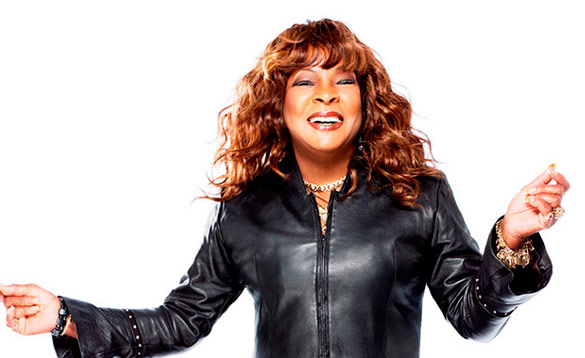 Queen of Motown is heading to the Cavern
Queen of Motown Martha Reeves is heading for the Cavern in August as part of a UK tour with her Vandellas.
Reeves' distinctive and powerful vocals formed a soundtrack to the 60s, and she enjoyed a string of hits including Heatwave, Jimmy Mack, Nowhere to Run and of course, Dancing In the Street.
We caught up with the legendary singing star to talk about her early musical influences, her big break at Motown and her return to perform in front of a Liverpool audience.
Where did your love of music come from, and how supportive were your family when you said you wanted to be a singer?
In my beginning I was aware of Daddy playing the guitar, passing it to Momma, and both of them happily singing. We spent evenings huddling and listening to the radio, for we weren't the first in the neighborhood to get television. We would sing whatever the DJs played.
It was always a gathering, with four sisters and six brothers, all musical. Lois and Delphine, my younger sisters, now perform and are my Vandellas.
Daddy was self-taught, he played and sang songs from his generation and had a collection of 78rpm records. He would sometimes place me between him and the guitar and sing me special songs. Momma would sometimes tire of waiting for us to settle down after our baths, sleeping three to four in our double beds, and she would sing us to sleep to keep from whipping us soundly.
We moved from the South in 1942, from Eufaula, Alabama, to Detroit, the eastside, and lived with uncles, aunts, cousins, in a single dwelling house. Three families on my Daddy's side of the family migrated to the North seeking jobs. We all attended our grandfather's church, Reverend Elijah Joshua Reeves Sr, Metropolitan A.M.E.
My family was the choir. We sang our way through every situation that would arise and on every given opportunity to celebrate our musical talent. Music has always been my source of healing and power, my way to overcome.
We would visit the South every summer during recess from school, and Mother's father, Grover Gilmore, would occasionally remove his banjo from the wall and play the most rhythmic patterns with songs and tales of his adventures in World War Il.
Public school gave me brilliant teachers who taught me songs, and because Momma had taught me to retain lyrics, I excelled in literature and composition. I was chosen for leading roles in the glee clubs and choirs.
You started your Motown career in the A&R department. What lessons did you learn from dealing with musicians from the 'other side'?
My Motown career started as a result of an invitation from a well-groomed and debonair stranger. My reward for winning an amateur contest at a local theatre was three nights to sing in The Twenty Grand Night Club during happy hour (6-9). On my last performance, Sunday night with The Levi Mann Trio, I was approached by William Stevenson, better known as Mickey. He handed me a card and invited me to "HITSVILLE U.S.A."
My Daddy, whose house I lived in at the age of 21, advised me to quit the day job at City Wide Cleaners and go and get discovered.
I arrived at 9am, passed about 30 hopefuls, singers and musicians waiting on the steps and at the entrance of the house with the hand-painted sign. But because I had a business card I was able to push my way pass the line to the reception desk, and showed my card. I asked for William R. Stevenson, and the receptionist immediately buzzed a door, I walked through it to find this man, in the same clothing that he had on just hours ago, rolled up sleeves, tie undone.
He was busy writing a song in the Artists and Repertoire department for the drummer who was fourth on the list of recording musicians, Benny Benjamin, Richard Pistol Allen, Eurrell Jones and Marvin Gaye.
He wasn't ready for me and my impromptu visit, the phone was ringing, and he was in a songwriting frenzy. "Answer this phone, I'll be right back", and I did. He was away three hours or more, and I became the first A&R secretary.
I stayed until 9pm and was escorted home by Clarence Paul, the assistant director, to let my Daddy know that I had a job, and was at the studio all of that time. He gave permission that I could report to the studio the next day.
It took all of nine months of faithfully reporting for duty. I met Berry Gordy Jr three weeks in, when Daddy asked me to get a salary, not satisfied that I was only being paid for demonstration recordings, yet I was scheduling sessions, writing and typing contracts, hiring musicians for sessions, auditioning up and coming artists, all of the functions of the office that handled 17 staff writers, several arrangers, various contractors, producers, and the hosts of anxious artists.
I invited the group of singers that I'd spent two years with, The Delphis, to sing back-up on the very song that Marvin Gaye was scheduled to record, the one written by Mickey, Stubborn Kinda Fella. We nailed that background harmony. While I continued everyday making demonstration recordings there was a demo that was intended for the next Mary Wells single, I'll Have To Let Him Go.
My voice was heard by Berry Gordy, and as Mary departed he suggested our voices had the sound that would make that song a hit, and it became our first release as The Vandellas. Della Reese (my idol) and Van Dyke Street (East Side), put together, made a good name as typed our contract.
We caught the attention of Eddie and Brian Holland, and with Lamont Dozer they wrote Come And Get These Memories, our first song to make the national charts, and register in Billboard, Cashbox, and Record World magazines. The fortune of talented people, great engineers, and Berry Gordy's dream to provide the world with the sound of young America is a dream come true for everyone who was invited. It's the fountain of youth, it puts joy in bur hearts, a love that has endured the test of time and is still a challenge to perform.
I know you don't have favourites among your songs (you've described them as being like your children), but which ones get the biggest reaction from your audience?
The difficulty to determine what song is the most important or favoured stems from the fact that I always put the words into my spirit and sang the lyrics and rhythms most desired by the producers. There is also a concentrated effort to sing the songs that the audience requests from our collection of 45s, albums, and CDs over the years.
It is always overwhelming when our friends gather and receive us and our legendary, timeless, inspired labour of love – our legacy.
You first came to Liverpool during the 1960s. What are your memories of the city at that time? Did you visit the Cavern and how does it feel to be playing the club yourself?
Liverpool resembled Detroit to me in the 60s upon my first introduction. We have expanded and grown alike in many ways. It's like an island, on the edge of bodies of water, a port and water stop, filled with talent just like our home.
The people greeted us with warmth and their knowledge of our music was delightful. They received our gift wholeheartedly and we were comforted right away because we were welcomed.
We performed in the Cavern. It was mystical to play where coal had actually been mined. The sound was terrific, the piano, guitars, drums and horns rang out and the echo was phenomenal. We knew why the Beatles loved that sanctuary it was a thrill and the musicians agreed.
We've visited the museum and look forward to playing the new Cavern again.
Martha Reeves and the Vandellas play at the Cavern on Sunday August 13. Tickets are £25 from the website.