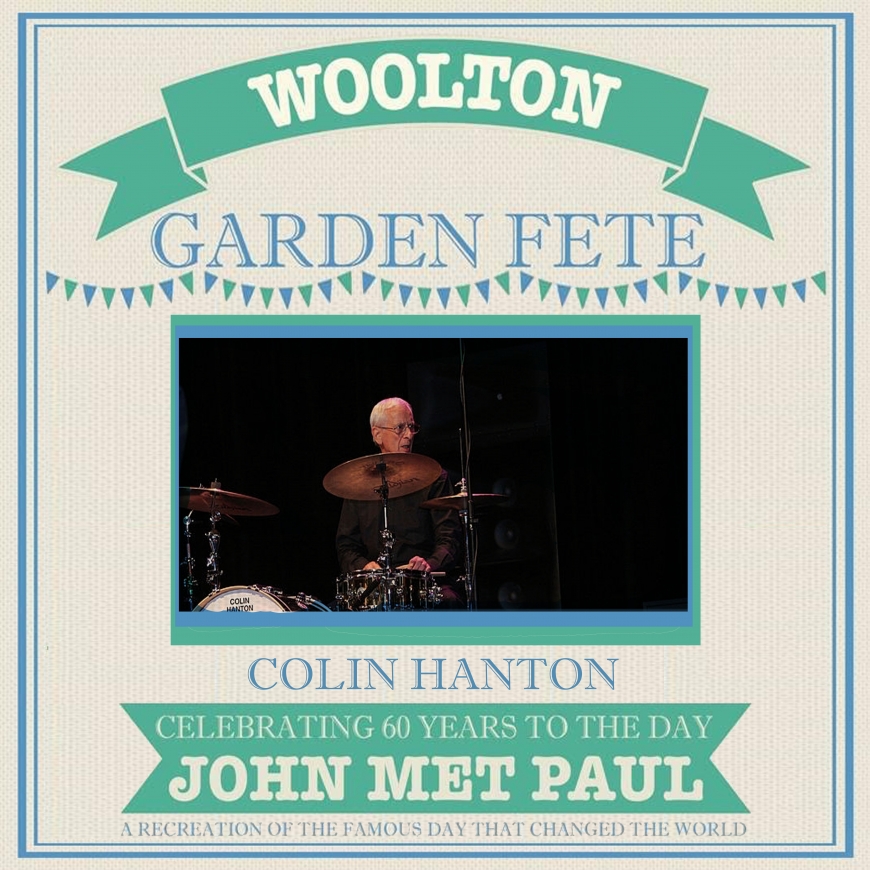 Remembering the day John met Paul: Colin Hanton
COLIN HANTON OF THE QUARRYMEN LOOKS BACK ON HIS TIME WITH JOHN AND PAUL AHEAD OF OUR LENNON/MCCARTNEY 60TH ANNIVERSARY CELEBRATIONS.
How did the Quarrymen come to play St Peter's Church fete?
"It was a leap of faith by the vicar Pryce Jones. Rock 'n' roll was the devil's music.
"Pete Shotton's mum was on the church committee and I think she might have put in a good word for us.
"Normally it was just the crowning of the rose queen, and a brass band and dog display. But it was advertised that there was going to be a Skiffle group on, which would have appealed to our age group."
What do you remember about July 6 1957?
"Nobody knew we had to remember all this! No one knew we'd be asked about Paul McCartney.
"I do remember it was an exciting day. I remember getting up feeling quite excited because we were going to perform on the back of a lorry and parade around the village.
"I joke that I had Kellogg's for breakfast and toast. But that would probably have been what I actually did have!"
Playing in the Rose Queen procession
"We did play on the float, but not particularly successfully. On the photo I'm sitting next to John, playing drums. Because we had a moving audience he seemed less interested, because people were only getting a little snatch of the music
The moment John was introduced to Paul
"I didn't live far away and I'd probably gone home for something to eat, and that was when Ivan introduced Paul McCartney to John.
"In the afternoon we'd put our stuff in the scout hut. I had my drum kit and was messing about with someone who was playing trumpet. I saw Ivan Vaughan come in with this lad and was talking to John briefly by the door of the scout hut. I think that's the first time Paul did see him.
"There was no bolt of lightning. I was thinking that they would probably have got together some other way."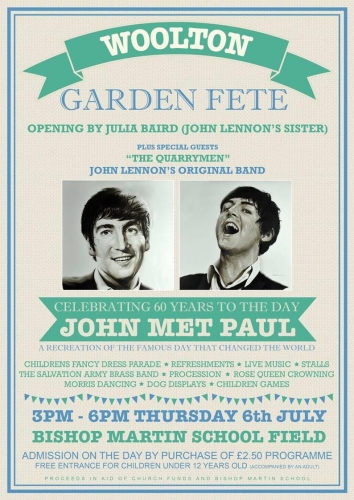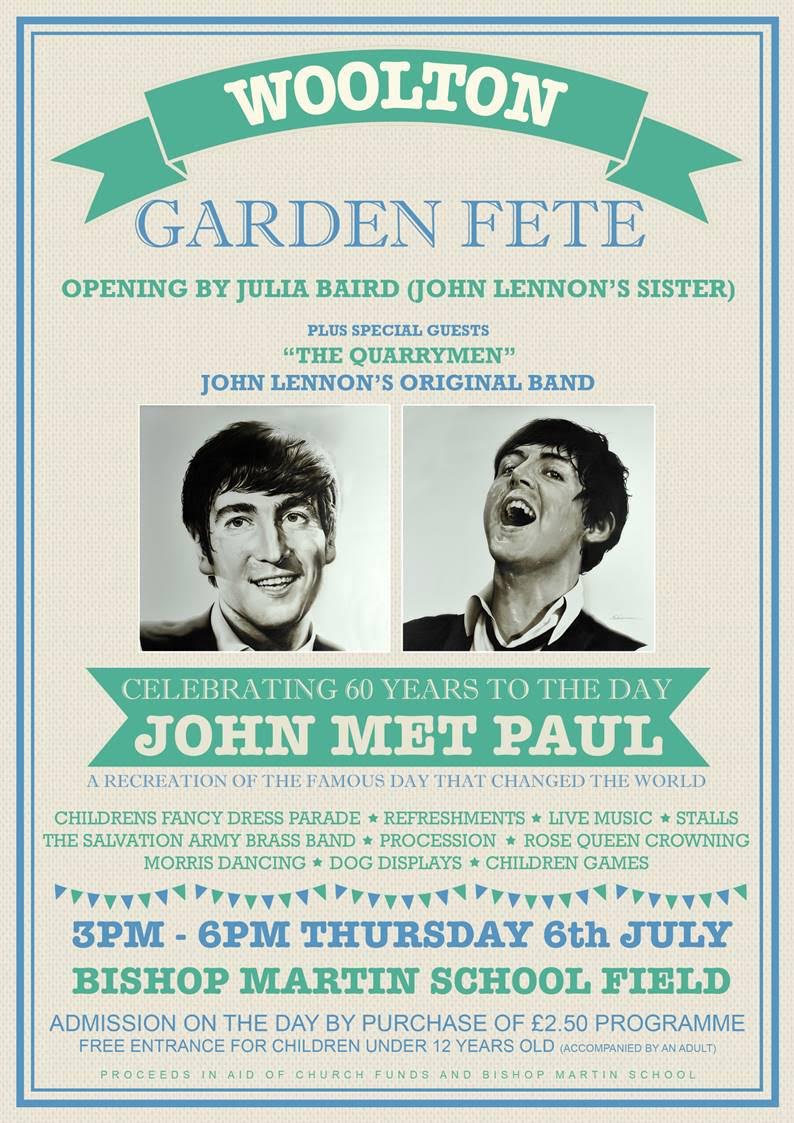 6th July, 2017
Procession with Quarrymen to start at 2pm and Garden Fete to officially open at 3pm.
To mark this historic occasion we will be recreating the St. Peter's Church Fete on the field behind the church in Woolton. The fete will have all the elements of a typical English garden fete with stalls selling refreshments, crafts, games for the children, Morris dancing, the salvation army brass band and lots more, together with a children's fancy dress competition and the crowning of the Rose Queen. There will be live music featuring the Quarrymen and other great acts. John Lennon's sister Julia Baird will officially open the Fete with the crowning of the Rose Queen.
This will be followed in the evening by the Grand Dance at  7:30pm. Tickets are £20 are now SOLD OUT!