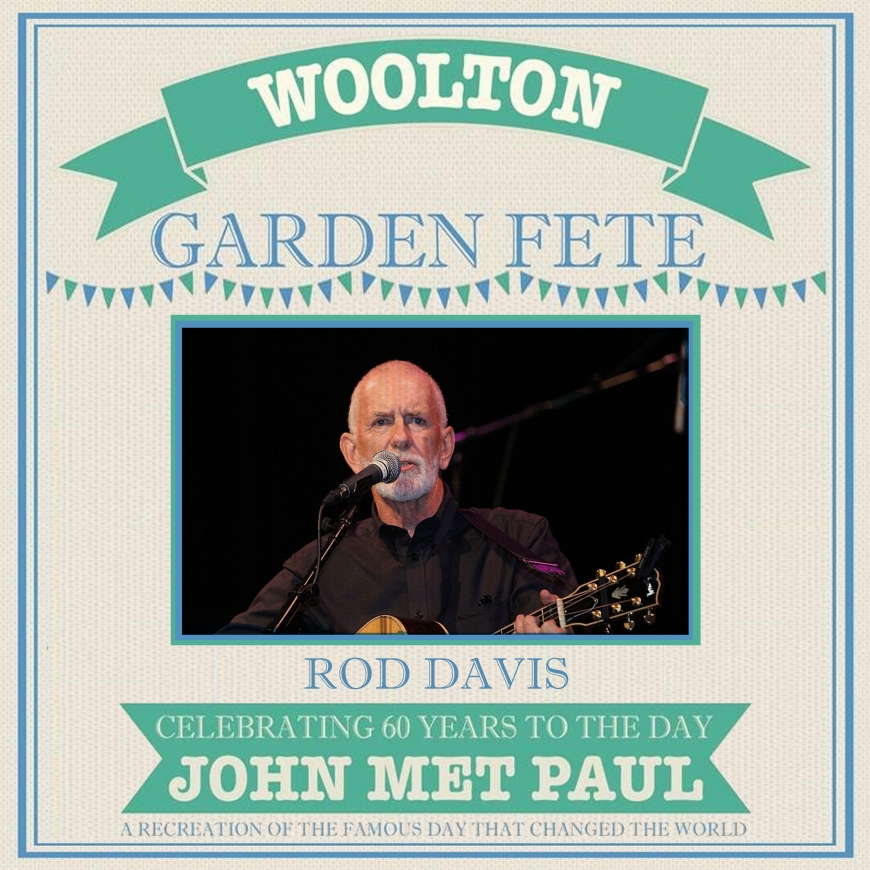 Remembering the Day John Met Paul: Rod Davis
Rod Davis of the Quarrymen looks back on his time with John and Paul ahead of our Lennon/McCartney 60th Anniversary celebrations.
On being friends with John Lennon…
Rod Davis: "My mum and dad wanted a bit of peace on a Sunday afternoon, so they packed me off to St Peter's Sunday School, and in my class there was Pete Shotton, Ivan Vaughan, Nigel Walley, Geoff Rhind, Barbara Baker….there must have been about 15 of us.
"When John came to live with his Aunt Mimi, she obviously also wanted a quiet Sunday afternoon and packed John off to St Peter's.
"That's how I first got to know him. But he lived on the other side of the 'hill', and there was no way I was going to go over the other side of the hill to play with John. I could get up to mischief right on my own front doorstep. And not only that, I think Mimi thought the sun shone out of his various orifices, where as everyone else knew he was a little monkey.
"In our house, as in many other houses in Woolton he was known as 'that Lennon', in the phrase "now you stay away from that Lennon", which only made him more attractive.
"So that's how I first got to know him. Then we both ended up at Quarry Bank School after the 11 plus. I was in the same year as John and Pete Shotton, but I was never in the same class."
On how he became part of the Quarrymen…
Rod had bought a banjo from a relative in Wales: "I went into school the following day, said to my friend Eric Griffiths, 'oh Eric, I got a banjo yesterday'. 'Oh yes?' he said, 'do you want to be in a group?' The problem was not to find people who knew how to play, but people who actually had an instrument.
"So I said, well who's in this group? He said himself on guitar, Pete Shotton on the washboard, Bill Smith on tea chest bass, and John Lennon on guitar.
Well, they were all friends of mine in the same year. So I said 'that sounds great, that'. And I was in."
On playing in the Rose Queen procession…
Rod: "There were two routes and they would alternate. One of them was down Kings Drive, which is where we lived, along Hunts Cross Avenue, up Manor Road and then back along Speke Road and up Church Road. The other one was on the top of the village.
"In 1957 it happened to be the Kings Drive one. So my dad walked out of our house and photographed it as it went past.
"We didn't notice him taking the photograph. So there's one where John is singing with his eyes closed. I'm standing leaning against the back of the cab and it must have been a hot sticky day because my glasses have slipped down my nose, and the banjo is at my feet in the case.
"And then we noticed it was my dad. So there's a second photograph where we all turn around and look at him, but John unfortunately is obscured by Len."
On the moment John was introduced to Paul…
Rod: "I don't even remember seeing Paul McCartney that day. Apparently, we were on stage playing the Del-Vikings' doo-wop number Come Go With Me, and he arrived on his bicycle and saw us playing.
"At some stage during the day, and there are various contradictory versions of what happened, John and Paul were introduced by Ivan Vaughan.
"I must have gone home for my tea!"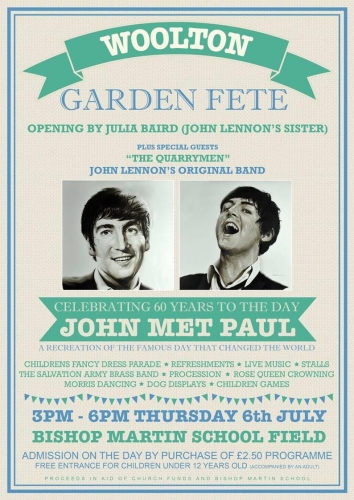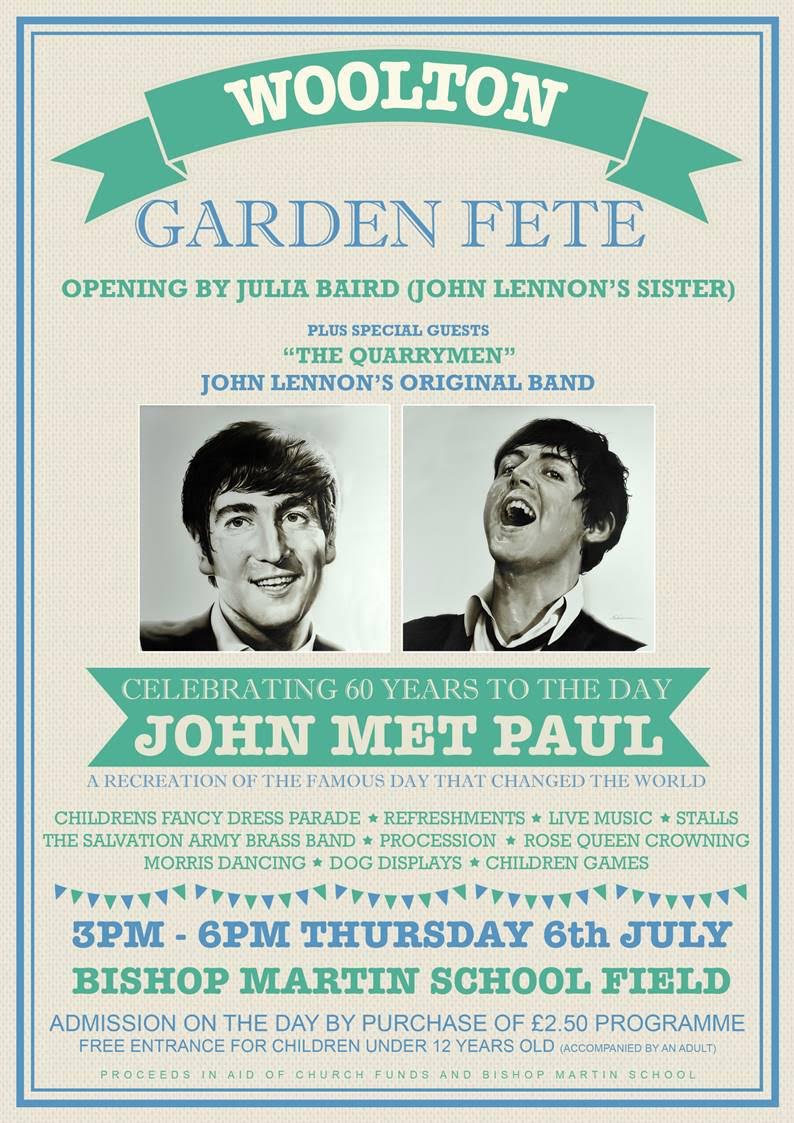 6th July, 2017
Procession with Quarrymen to start at 2pm and Garden Fete to officially open at 3pm.
To mark this historic occasion we will be recreating the St. Peter's Church Fete on the field behind the church in Woolton. The fete will have all the elements of a typical English garden fete with stalls selling refreshments, crafts, games for the children, Morris dancing, the salvation army brass band and lots more, together with a children's fancy dress competition and the crowning of the Rose Queen. There will be live music featuring the Quarrymen and other great acts. John Lennon's sister Julia Baird will officially open the Fete with the crowning of the Rose Queen.
This will be followed in the evening by the Grand Dance at  7:30pm. Tickets are £20 and available here.