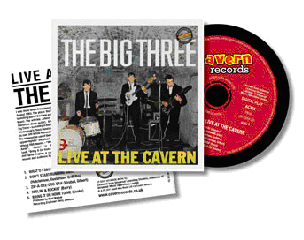 The Big Three Live At The Cavern hits the big 50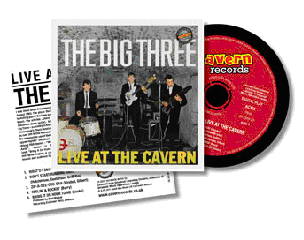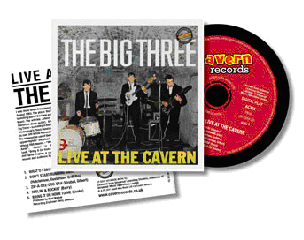 To celebrate the 50th anniversary of The Big Three first playing at the world famous Cavern Club, its newly launched record label Cavern Records releases the CD EP The Big Three – Live at the Cavern.
In 1963 The Big Three, one of the most popular Merseybeat bands recorded a live set in the Cavern Club, Liverpool. The Cavern was packed and the audience included the Rolling Stones! The event was widely regarded as the launching pad of the new sixties style.
Cavern Records has recaptured the look and feel of the original 45 vinyl but have included an extra track that didn't fit on the original single. Five songs from this electrifying set are now available for the first time ever in this format. The CD has followed the style of the original record and has even included the original wording from Bob Wooler, the Cavern's very own "Dee Jay – Compere".
This is a rare chance to capture one of the greatest moments in the history of ground making times.
The five songs featured are:
1. WHAT'D I SAY
2. DON'T START RUNNING AWAY
3. ZIP-A-DEE-DOO-DAH
4. REELIN' & ROCKIN'
5. BRING IT ON HOME TO ME
These songs are as relevant and vibrant now as they were all those years ago. The CD can be bought from the Cavern Club, Cavern Pub, Museum of Liverpool, John Lennon Airport and the Beatles Story (Albert Dock), or visit www.cavernrecords.co.uk for more information.
For more information or press/review copies contact Francis or Rob 0151 255 0400 or 07752452404 [email protected]