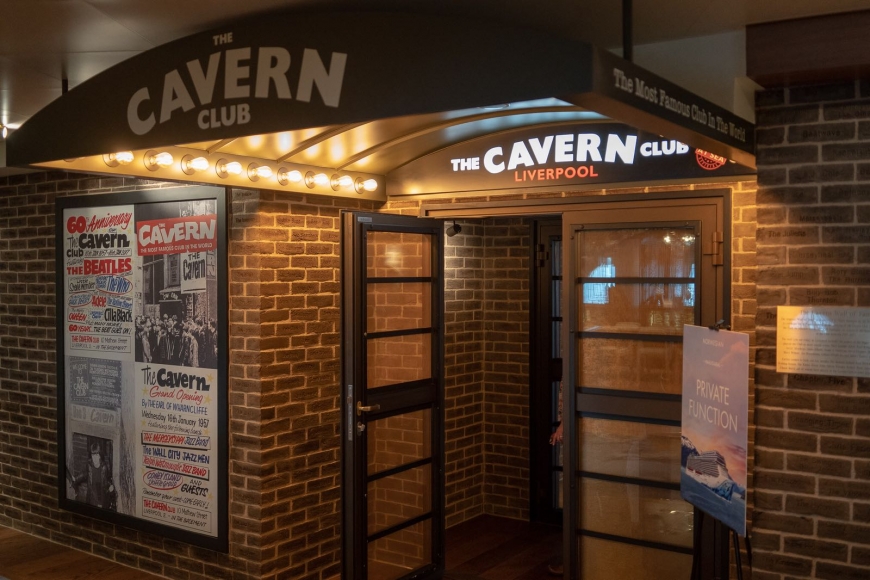 The Cavern teams up with Norwegian Cruise Lines for a 2nd time!
The Cavern have teamed up with the great people at Norwegian Cruise Lines to create a 2nd on-board Cavern Club this time on the new highly-anticipated ship, Norwegian Bliss.
"NCL have done a fantastic job of bringing the Cavern Club to life aboard Bliss, their brand new vessel. We launched the first "Cavern Club – At Sea " on Epic three years ago which has been a huge success, but with this ship being a brand new build, working closely with NCL, we have been able to add a lot more detail and reference to the original Cavern. The addition of the outside bar on the deck is fantastic. They have done such a good job and the official christening of Bliss and the opening night party in the Cavern has been a huge success." – Jon Keats, Director of the Cavern
The ship was officially christened on 30th May in Seattle, Washington USA.
"As the largest ship to ever be christened in Seattle, Norwegian Bliss' ceremony was our most exciting one yet. We thank the Emerald City for a very warm welcome and their partnership, and we are looking forward to continuing and strengthening our relationship with the Port of Seattle for years to come." –  Andy Stuart, president and chief executive officer of Norwegian Cruise Line.
It was announced by Nick Wilkinson, vice president and managing director of Norwegian Cruise Lines UK and Ireland, that every Beatles tribute act treading the boards on Bliss will have performed at the original Cavern Club. Adding a welcome touch of legitimacy to one of the most eye-catching features the ship has to offer.
The first band to perform on board the new Cavern Club is our very own Cavern Club Beatles! Check out a video from their opening night!
______________________________________________________________
Pull up a chair in the legendary Liverpool club where The Beatles performed 292 times. Sip your favourite drink during an evening of good company and great music with a Beatles cover band. This is your ticket to ride down Penny Lane, perhaps in a Yellow Submarine? Don't wish you'd experienced the magic yesterday. Come together tonight and get back to the groovy days with Norwegian.
Norwegian Bliss will cruise seven-day voyages to Alaska from Seattle and then in October she will sail select voyages to the Mexican Riviera from Los Angeles. For her fall/winter season, she will sail to the Eastern Caribbean from Miami and in 2019; she will sail from New York City to the Bahamas and Florida, the Southern and Western Caribbean.
To learn more about Norwegian Bliss, please visit www.bliss.ncl.com. To book a cruise with Norwegian Cruise Line, contact a travel professional or call Norwegian at 888-NCL-CRUISE (625-2784), or visit www.ncl.com.