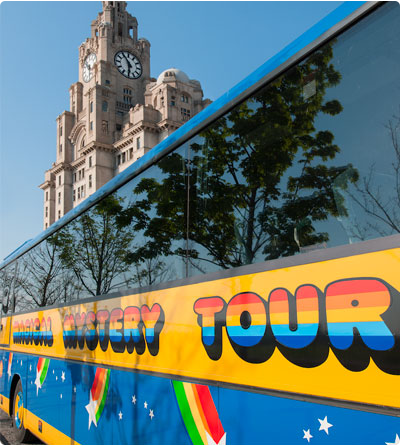 VisitEngland announces Magical Mystery Tour as winner of a Visitor Attraction Accolade
VisitEngland has announced the winners of its 2019 Visitor Attraction Accolades recognising the outstanding visitor experiences on offer across the country.
This includes our very own Magical Mystery Tour in the category of Best Told Story
England's attractions have been awarded accolades based on the score they gained in their annual Visitor Attraction Quality Scheme assessment by VisitEngland.
VisitEngland Director Andrew Stokes said:
"England's attractions provide visitors with amazing experiences and these accolades recognise the outstanding customer service and quality on offer across the country. 
"From Best Told Story interpretation to Hidden Gem and overall Gold, these accolades show that there is an attraction capable of capturing everyone's imagination creating lasting memories and spreading the economic benefits from tourism."
The 73 attractions are being recognised as a result of the exceptional experience they provide visitors from story-telling to food and drink and from customer service to overall winners.
Introduced by VisitEngland in 2014, the Visitor Attraction Accolades are available to members of the Visitor Attraction Quality Scheme. They include the Welcome Accolade, Hidden Gem, Best Told Story, Quality Food and Drink and the Gold Accolade for all-round top-scoring attractions.
Members of VisitEngland's Visitor Attraction Quality Scheme represent a wide range of tourism experiences across England, from museums and galleries, farm attractions, historic houses and gardens to churches, cathedrals and country parks. They are supported by a network of highly trained assessors who advise on improving and promoting the quality, accessibility and sustainability of their offer.
Tourism is worth an estimated £127 billion to the UK economy annually, creating jobs and boosting economic growth.