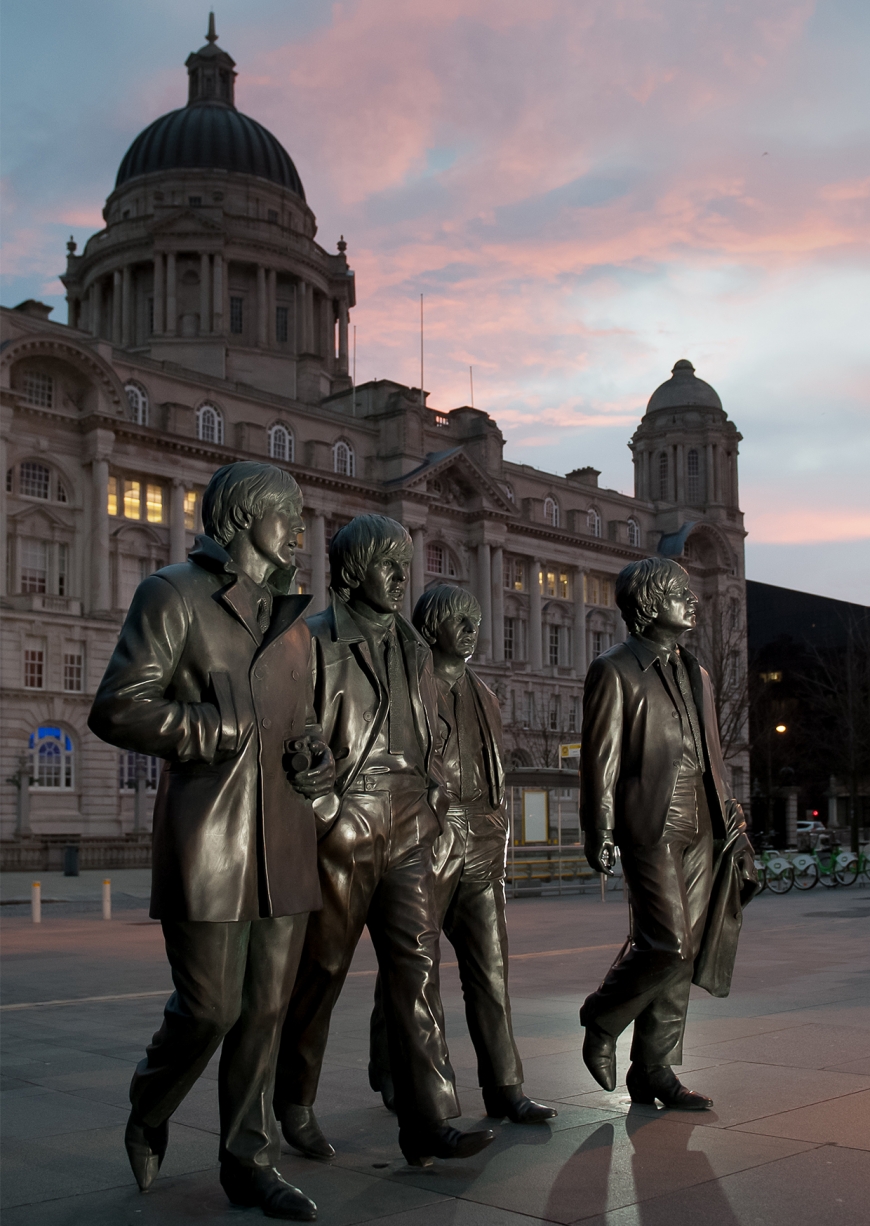 The Fab Four Statues: The Secrets
Wednesday, 4 December 2019
The idea first came from Chris Butler, who owns a sculpture foundry in the Baltic Triangle of Liverpool. Walking through Liverpool One shopping centre Chris saw the image of The Beatles from the 'Live at The BBC' album which used to be outside the HMV store. Combining this with publicity photographs the band had done on the pier head in 1963, his vision was complete; a monument to Liverpool's most iconic sons in Liverpool's most iconic setting – before the Three Graces on the banks of the River Mersey, a globally recognisable waterfront and UNESCO world heritage site.
It took local sculptor, Andy Edwards to realise the vision. Andy's pursuit of perfection led to an unlikely secret weapon.
"I had A Hard Day's Night – the film – on loop, all the time. Whenever they moved their head in a certain way or there was a different angle I'd model it in the clay. I wanted to get their likeness as close as possible from every direction you looked at them"
The results were spectacular and Chris Butler was determined to make it happen; cast in bronze and walking along the waterfront. In Chris' own words, "it's a statue that needs no title, no explanation, no instruments, no gimmicks. It's a monument to a moment and that moment started in Liverpool."
View this post on Instagram
The vision was created but with one hitch: They needed someone to pay for it.
That is when we stepped in at Cavern City Tours. Bill Heckle agreed that by way of thanks to the city – and The Beatles, we were more than happy to make this stunning idea a reality.
"John was never buried anywhere, and neither was George, so what's actually happened is the point of reference just reverts back to Liverpool. It's about birth with The Beatles – not death. A day will come when The Beatles songs are public domain – but Liverpool will always own the history and story. It' the point of reference. People go to Stratford for Shakespeare, Salzburg for Mozart and back in 1983 we had a vision that Liverpool would be bigger than both of those… and it is. That's why I wanted to make this happen" – Bill Heckle
Bill took the idea to the other directors. He explained how if The Cavern Club didn't help build the statues, who else would? Bill Heckle, Dave Jones, George Guinness, and Julia Baird were unanimous that the £200,000 that was needed should be given to help build the statues, and it should come from Cavern City Tours.
Bill admits, that despite the plethora of various Beatles artworks throughout the city, there didn't seem to be a definitive piece that would become the focal point until this work was presented to him. Rich in symbolism, each statue has a unique characteristic.
John Lennon
Even though the work is right in the heart of the city where John Lennon was born, there is no letting go of the city where he died. Clasped in John's right hand are two acorns. They were foraged by Chris Butler, from oak trees near the Dakota Building where John lived with Yoko Ono.
Back in Liverpool, Butler decided to give them a permanent role, casting them in Lennon's palm. They are hidden to all but the most eagle-eyed spotter.
He said: "In the 1960s, John Lennon sent acorns as a message of peace to world leaders. I was in New York recently and collected a handful of acorns from Central Park.  I added them at the last minute as an everlasting symbol of peace."
Paul McCartney
Paul McCartney is one of only two Beatles with his hand showing. John Lennon has his right hand displayed and Paul McCartney has his left hand displayed, the hands that penned most of the songs we have come to know and love.
Paul's hand is clutching a camera, which is a tribute to his late wife Linda McCartney.
George Harrison
If you look around the back of the statue, George is wearing a belt and upon it is Sanskrit lettering, an Indian Mantra. This is something that causes confusion to all natives and has been the subject of online debate for the past four years since the statues were unveiled.
The Sanskrit is a mantra and it roughly translates to:
The Infinite Beyond Conception, we meditate upon that Light of Wisdom, which is the Supreme Wealth of the Gods. May it grant us to increase in our meditation.
Ringo Starr
John, Paul, and George all have hidden symbols in plain sight, even if their meaning is hard to find. Ringo Starr has the easiest to interpret but the hardest to find, in fact, to see it with your eye you would have to be laying on the floor behind the statue!
On the sole of Ringo's shoe, you will find the postcode that he was famously raised in – the L8 area of Liverpool in the Welsh Streets of our city.
Ringo is also set back from the others, representing the order they were typically positioned on stage with Ringo being behind the others on the drum kit.
Since the unveiling 4 years ago, The Beatles Legacy Statues have taken on a life of their own. They have become a monument not only to The Beatles but it could be considered that they have become an iconic image of Liverpool and for that, we are extremely proud to have contributed.
There are more hidden gems on the statues that for now we will keep secret. If you are aware of any others, feel free to let us know on social media.
Cavern Club: Facebook – Instagram – Twitter 
Written by Dale Roberts.
Credit: Stuart Homer Photography for the fantastic header image.