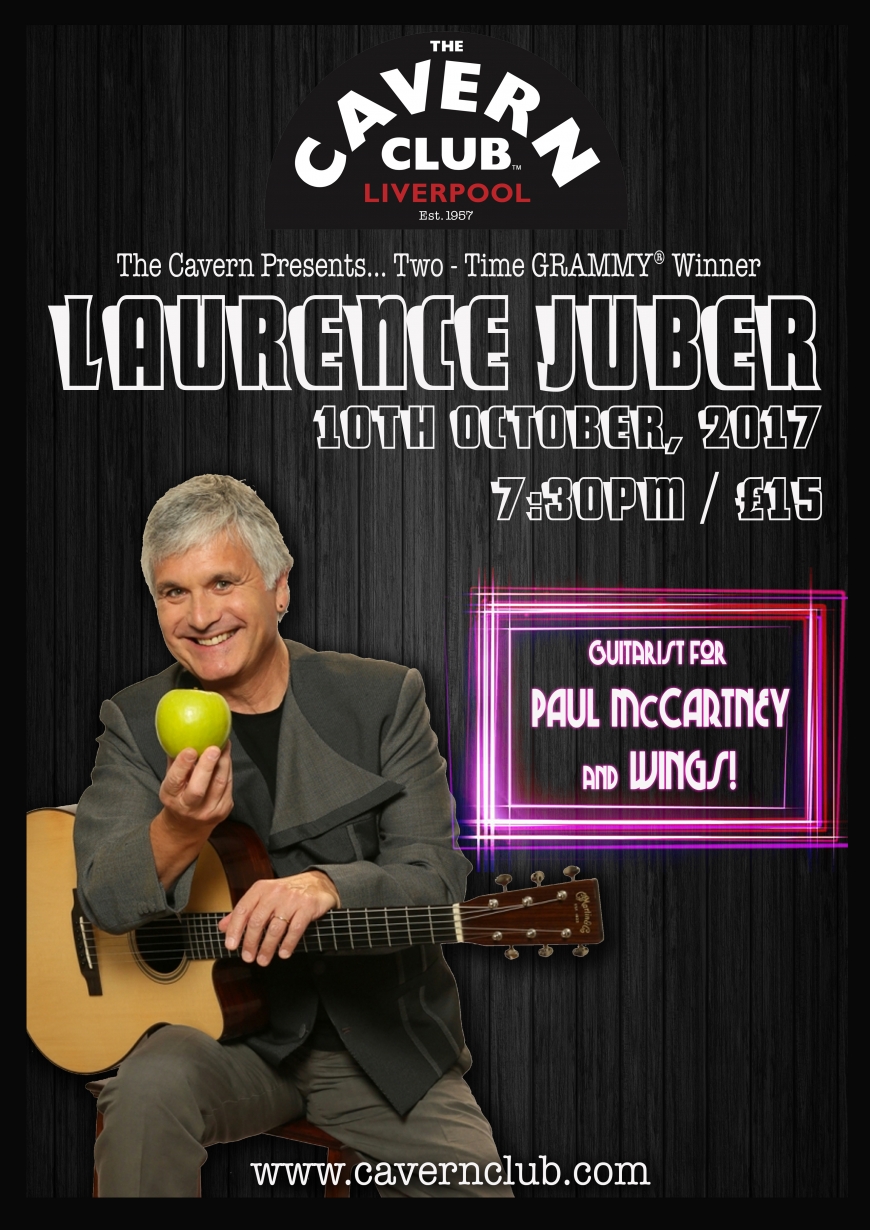 LJ Plays The Cavern!
He's played with Paul McCartney in Wings, worked with George Martin, appeared on numerous movie soundtracks including a James Bond theme song, and composed music for TV and films.
Now Beatleweek alumnus Laurence Juber – or LJ as he is known – is returning to the Cavern for a solo show on October 10.
The London-born, GRAMMY® Award-winning guitarist, whose latest release is titled LJ Can't Stop Playing the Beatles! fuses folk, jazz, blues, pop and classical styles to create his own unique immersive style.
We caught up with LJ to find out more about the man, and also what music fans can expect when he steps up on the Live Lounge stage. 
Do you come from a musical family – and what did they say when you announced you wanted to become a musician?
My family wasn't musical but my dad was a fan of big bands and wanted me to learn the saxophone. The Beatles made the guitar legit, so they were OK with me learning it.
My parents wanted me to have 'something to fall back on' if music didn't work out. They both left school in their mid-teens during the war, and I felt that I owed it to them to get an education. I studied music, so my 'something to fall back on' was……music!
You have a music degree. How useful has that been in your subsequent career?
Studying music and musicology made me a better musician with a broad historical perspective. I'm mostly self-taught on guitar and with the ambition to be a studio player, understanding music was a necessity. Denny (Laine) says that they were looking for a versatile guitarist to fill the lead spot in the band, so that education certainly helped.
My degree became more useful after Wings, when I started composing and arranging. It provided a strong musical foundation and gave me the skill to understand musical style.
It also helps with my advocacy for the guitar in music education, seeking to bridge the gap between the strict classical and pop/rock aspects of communicating music.
What do you remember about the first time you played the Cavern? And what are you looking forward to most about returning?
My first time at the Cavern was about 15 years ago – I was excited to be getting my name on a brick on the wall.
I love to play classic venues and, in the pop world, what could be more classic than The Cavern? It's not fancy, but it's historic and inspirational.
What can people expect from this latest show?
I play fingerstyle guitar, which is similar to classical technique, but using steel strings instead of nylon. That allows me play the melody, bass and rhythm all at once with a tone that I have personalised over many years.
My stage sound is geared to an immersive concert experience, so this is not a polite recital, but a pop/rock show with jazz, blues and folk overtones.
I'm doing mostly Beatles, plus some Wings, way more than I would typically do in concert. Having released three albums of Fab Four tunes, I have a substantial repertoire to draw on.
I'm looking forward to paying this homage to their music in the space that nurtured their immense talents.
How did you come to join Wings? And what is your most vivid memory from your time with the band?
As a session guitarist, I was playing lead guitar on a David Essex TV series in 1977 when Denny Laine was a guest and sang Go Now.
He like my playing and recommended me to Paul and Linda. About six months later I was called in to audition, along with drummer Steve Holley.
I guess we both 'fit the suit' and were asked to join that day.
In December 1979, Wings played the last of the Concerts for Kampuchea and for the finale, we recreated Rockestra, the rock orchestra that Paul assembled for the Back To the Egg sessions. We played Let It Be with this host of rock luminaries, including John Bonham, Kenny Jones, Dave Edmunds and countless others.
When it came to the solo I realised that no-one else was going to take it, so I stepped forward. Towards the end, I had Pete Townshend peering over my shoulder – for a kid who grew up listening to the Beatles, The Who, Zeppelin etc it was a magical moment.
Being in Wings was a gift, not only because it burnished my resumé, but also because it significantly advanced my education as musician.
If you could play along side any musician, dead or alive, who would it be and why?
John Lennon. I've played with Paul, Ringo, and George so, in this imaginary scenario, John would complete 'the set.'
I could give you list a mile long of guitarists and other musicians, but John would be my starting point. It helps me as a musician to gain first-hand insight into how great musical artists approach their work.
Why can't LJ stop playing the Beatles?!
Beyond that fact that my professional life has been shaped by my association with their music?
My wife Hope loves to hear me playing their music – that alone is reason enough to do it. She produces my albums too.
Their songwriting and record-making is so musically satisfying. I enjoy the challenge of finding a way to squeeze these familiar melodies onto the guitar and incorporate the riffs and clever counterpoints that make their records so unique. My audiences certainly appreciate it.
Having done three albums of Beatles tunes, I'm not sure that I'll do another, but I'm just getting started with the concept of doing full sets of the Fab Four, so being able to launch it at The Cavern, where it all started, is a great opportunity.